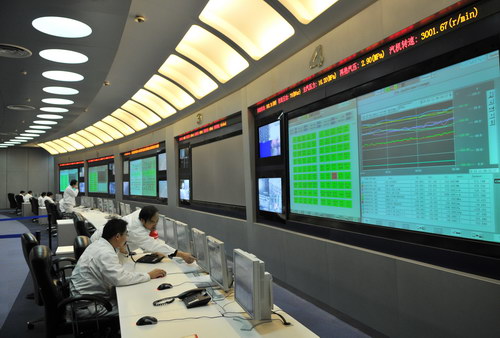 An electric power plant owned by China Shenhua Energy Co, in Ningbo, Zhejiang province. The company's shares plunged 5.67 percent after Goldman Sachs Group Inc said the country may cap thermal coal prices. [Photo/China Daily]
Prospect of more measures to cool economy saw stocks fall the most in 2 months
SHANGHAI - Stocks on the Chinese mainland fell the most in two months after the government said taming inflation is "critical".
The comment sent a signal to investors that more tightening measures may be implemented, even as economic growth slows.
China Shenhua Energy Co and Yanzhou Coal Mining Co plunged more than 5 percent after Goldman Sachs Group Inc said the government may cap thermal coal prices to help power producers.
Related readings:


 China stock index futures close down -- May 4


 China puts curbing inflation top agenda: MOF


 Central bank to sell 6b yuan 3-month bills


 Yuan declines on weaker central bank fixing
Jiangxi Copper Co and PetroChina Co led a drop for commodity producers as metal and oil prices extended declines. China Citic Bank Corp fell the most in six months after the China Securities Journal said the central bank will raise the reserve requirements for lenders this month.
"Curbing inflation is the top priority for the government," said Wu Kan, a fund manager at Dazhong Insurance Co, which oversees $285 million, "China's economic growth has shown signs of a slowdown but that won't change the government's intention to cool inflation with more monetary measures."
The Shanghai Composite Index, which tracks the bigger of China's stock exchanges, slid 66.2 points to 2866.02 at the 3 pm close, the most since Feb 22. The CSI 300 Index retreated 2.6 percent to 3129.03.
China's central bank has lifted borrowing costs four times since October to cool prices that grew at the fastest pace since 2008 in March. It has also ordered lenders to set aside reserves 10 times since the start of last year to curb lending. The Purchasing Managers' Index, a gauge of manufacturing growth, fell to 52.9 in April from 53.4 in March.
"A moderate growth slowdown in 2011 could be taken as a signal of a hard landing going forward," Bank of America Merrill Lynch economists said in a report on Wednesday.
Growth indicators such as industrial production and fixed-asset investment will probably moderate in April from March, they said.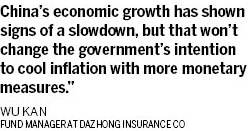 China's inflation rate may fall to around 5 percent in May before peaking above 5.5 percent in June, they said.
"Stabilizing prices and managing inflation expectations are critical," the People's Bank of China said in a first-quarter monetary policy report published on Tuesday. Bank reserve requirements have no "absolute ceiling", the report said, restating Governor Zhou Xiaochuan's comment on April 16.
Jiangxi Copper sank 6 percent to 34.62 yuan ($5.30), while Yunnan Copper Industry Co fell 3.8 percent to 23.15 yuan. Copper declined in London, falling for the fourth time in five days, on concern about the strength of demand in China.
PetroChina led declines for oil companies, sliding 2.2 percent to 11.46 yuan. Crude oil fell for a third day in New York, the longest losing streak since March. Oil for June delivery slid as much as 61 cents to $110.44 a barrel in electronic trading on the New York Mercantile Exchange.
Yanzhou Coal plunged 7.1 percent to 33.14 yuan, the biggest drop since Nov 16. China Shenhua dropped 5.7 percent to 28.12 yuan.
The government may allow tariff increases for independent power producers and control thermal coal contract prices, Goldman Sachs said in a report on Wednesday.
Bloomberg News