Data suggest that labor shortage may arise sooner than expected
BEIJING - China's population is getting older, and that could have a major effect on the nation's economic prosperity.
The emergence of negative growth in the total working-age population, which some demographers predict will happen as early as 2013, is likely to contribute to slower economic growth and higher inflation, according to analysts.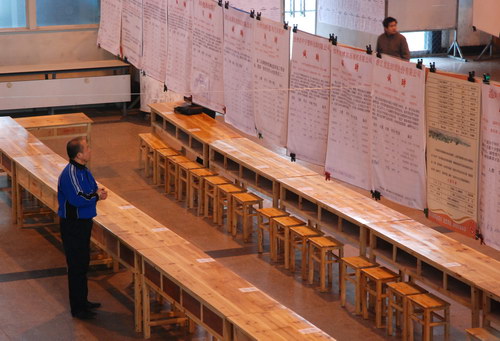 Employment advertisements at a job fair in Taizhou, Zhejiang province. Some economists have argued that a labor shortage could provide a catalyst to accelerate China's industry upgrade, increase productivity, and transform the nation's growth model. [Photo/China Daily]
However, they said the demographic shift from a rural surplus of labor to a deficit will help to accelerate the transformation of the growth model from one which is export- and investment-led to one driven by services and consumption.
The latest census data, released by the National Bureau of Statistics on Thursday, showed that the proportion of the population aged between 0 and 14 fell to 16.6 percent in 2010 from 22.9 percent in 2000. Meanwhile the number of people aged 60 and above grew to 13.3 percent from 10.3 percent.
The falling number of young people suggests the Chinese population is aging rapidly. The Asian Development Bank forecast that the proportion of those aged 60 and above is expected to rise to 33 percent by 2050. That would make China's population the same age as Denmark's, but older than that of the United States (26 percent).
Related readings:


 Demographic challenges


 Aging population challenges pension system


 Aging population could bring vital changes to family planning policy


 Population now stands at 1.341b
The number of working-age Chinese will soon start to see negative growth with the National Population and Family Planning Commission predicting the peak will occur in 2016, while some analysts say it could be as early as 2013.
"The potential emergence of a labor shortage is likely to contribute to slower economic growth in the short term," said Zhang Juwei, professor and director of the Labor and Social Security Research Center at the Chinese Academy of Social Sciences.
China has already reaped the benefits of a demographic dividend, which is believed to have played a role in the country's economic breakthrough, having enjoyed the advantage of abundant cheap labor for decades.
"Wage increases are the most direct response to labor shortages. That will definitely squeeze the profit margin for some low value-added manufacturers," Zhang said.
Economists said that higher wage rates could lead to higher inflation and a decline in the competitiveness of the manufacturing sector, which may cast a shadow over the country's position as a global manufacturing center.
In 2010, minimum wages increased by more than 20 percent on average, and the government has vowed to double workers' pay over the next five years.
"It will become harder for productivity to keep up with faster wage growth, while the consumption share of GDP should soon start to rise, reducing economic overcapacity. All this points to higher structural inflation pressure," Sun Chi, an economist at Nomura Securities wrote in a report.
Some economists have argued that a labor shortage could provide a catalyst to accelerate the country's industry upgrade, increase productivity, and transform the nation's growth model.
"The labor shortage will force enterprises to go after an innovation and technology-driven strategy, which will help lift productivity and offset the negative impacts, said Mo Rong, deputy head of the Research Institute for Labor Science at the Ministry of Human Resources and Social Security.
Analysts also said that to address the issue effectively, policymakers in Beijing need to gradually loosen the family-planning policy and to remove the system of household registration, which is a major barrier to the migration of labor from rural areas to the cities.