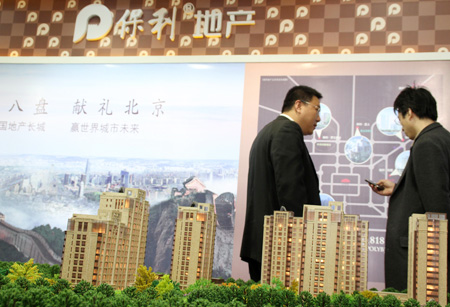 A booth of Poly Real Estate Group Co Ltd at a property exhibition in Beijing. The company's price retreated 2.79 percent to 12.91 yuan on Thursday. [Photo / China Daily]
SHANGHAI - Stocks on the Chinese mainland fell for a fifth day on Thursday, capping the longest stretch of losses this year, on speculation the government will increase interest rates by as early as next week to tame inflation.
China Vanke Co Ltd and Poly Real Estate Group Co Ltd lost more than 1 percent as Credit Suisse Group AG said the central bank may boost borrowing costs on May 2 and Shenyin & Wanguo Securities Co Ltd said the government may add to property price curbs.
Angang Steel Co Ltd slid to the lowest in two months after net profit tumbled.
Related readings:


 Stocks decline on concerns over further tightening measures


 China stocks close lower Wednesday


 China shares fall to 2-month low


 Markets hit by concerns over earnings growth
"With tightening measures likely to be intensified, all this bad news is weighing on stocks," said Wu Kan, a fund manager at Dazhong Insurance Co Ltd, which oversees $285 million. "Corporate earnings in some sectors didn't meet expectations and there's room for them to be revised downward."
The Shanghai Composite Index fell 1.3 percent, to 2887.04 at the 3 pm close, capping a five-day, 4.6 percent drop and the lowest level since Feb 25. The CSI 300 Index lost 1.49 percent.
The Shanghai Composite has declined 5.6 percent from a five-month high on April 18 amid concern that the government will add to 10 increases in lenders' reserve requirements and four rises in interest rates to cool inflation. The drop has pared the stocks gauge's advance this year to 2.8 percent.
China may raise borrowing costs early next month, with the "most likely" timing being May 2, Dong Tao, an analyst at Credit Suisse Group, wrote in a report on Thursday. The brokerage also expects one more reserve ratio increase for banks "towards" late May after the government releases April inflation and lending figures, the analyst wrote.
Poly Real Estate, China's second-largest developer by market value, retreated 2.79 percent to 12.91 yuan ($1.99). China Vanke slipped 4.07 percent to 8.31 yuan. Citichamp Dartong Co Ltd, a developer based in the southeast Fujian province, dropped 5.88 percent to 8.81 yuan.
China's real estate market is a "particular source of risk" to growth given the importance of property construction to the world's second-biggest economy, the World Bank said on Thursday.
Angang Steel Co Ltd fell 2.39 percent to 7.77 yuan. The company's net income tumbled 94 percent from a year earlier in the first quarter, it said on Wednesday.
The earnings per share of 657 companies that have released first-quarter earnings on the Shanghai Composite trailed analysts' estimates by 3.4 percent, according to data compiled by Bloomberg.
Bloomberg News