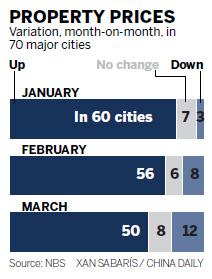 Majority of cities monitored saw a fall in value or slower growth rate
BEIJING - Property prices in key cities grew slower in March, and some actually declined, as the government's measures to curb rampant real estate speculation and tightened monetary policies began to bite.
Of 70 large and medium cities surveyed more than half experienced a fall in property values or a slower rate of increase. Twelve cities witnessed month-on-month falls in property prices, compared with eight in the previous month. Eight cities saw no change while 29 cities experienced smaller rises in property prices than in February, the National Bureau of Statistics (NBS) said on Monday.
Prices of new homes in Beijing rose 4.9 percent in March from a year earlier, easing from a 6.8 percent gain in the previous month. In Shanghai prices jumped 1.7 percent last month, down from 2.3 percent in February, according to the NBS.
"The government's policies obviously reduced property sales in some first and second-tier cities. However, that does not mean that targets have been met," said Li Ming, chief executive officer of Sino-Ocean Land Holdings Ltd. "I will not be surprised if the government launch more rigorous measures."
Related readings:


 More Chinese cities see housing prices decline in March


 Chinese VP calls for fairness in housing distribution


 Transparency in housing needed


 Housing prices expected to drop, not sharply

Sino-Ocean Land, like other property companies, plans to expand in smaller cities, according to Li.
"All property companies are facing unprecedented pressure because of the short-age of funds, as banks reduce loans to property developers and individual buyers."
Mao Daqing, vice-president of the country's largest property developer, in terms of sales, China Vanke Co Ltd, told China Daily that May and June should provide a clearer picture of the property market, in terms of the attitude of potential buyers and the business strategy of developers for the second half of the year.
According to Liu Xiaoguang, general manger of Beijing Capital Group, the government's rigorous real estate policies are kicking in, as demonstrated by a fall in property sales, of some 50 percent, in Beijing and Shanghai.
The government has adopted various measures to curb rising property prices, including restricting residents in major cities from buying second or third homes, higher down payment requirements for mortgages, property taxes in Chongqing and Shanghai, as well as a slew of monetary policies that have raised developers' borrowing costs.
"With monetary policy to be further tightened and rigorous property measures in place, the negative impact on the real estate market will be more obvious in August," Liu said when attending the Boao Forum for Asia in Hainan province, South China.
Property prices in some Beijing districts, mainly in areas outside the east and south fifth ring roads, are expected to see a drop of more than 10 percent by August, but the price of projects located within the city's fourth ring road will remain firm, he added.
"More property developers will face financing difficulties in the second half of the year as tightening monetary policies continue, so a bigger price drop should be expected in the following months," said Grant Ji, director of the investment department of the real estate service provider, Savills (Beijing).
For Lu Zhengwei, chief economist with Industrial Bank Co, the government's tightening measures are not expected to ease before the third quarter of the year, since all the key economic indicators exceeded expectations.
China's consumer price index (CPI), a main gauge of inflation, rose 5.4 percent year-on-year in March, the NBS said on Friday. The growth rate is the fastest since July 2008.
"More tightening policies are expected, with one or two further rises in interest rates before the end of the second quarter," said Lu.
To soak up excess liquidity in the market, the central bank has raised interest rates four times since October and raised the amount of money that banks must hold in reserve by 50 basis points on Sunday - the fourth hike this year and the tenth increase since the beginning of 2010.
International ratings agency Moody's lowered its view on China's real estate sector on Thursday, warning in a report that a slowdown is taking place with credit conditions forecast to tighten over the next 18 months.
The government is more serious about reining in inflation and heading off a property bubble, Moody's said, as policy goals are increasingly seen as key to maintaining social stability.
Premier Wen Jiabao said on Wednesday that the government will use all the tools at its disposal to bring inflation under control.
The Moody's report said it expects a "mild downward" correction in property prices in China's first and second-tier cities where the biggest price gains were seen in the past 12 to 18 months.
People have shown a marked willingness to invest since the last quarter of 2011, according to a report by Nielsen.
"This is mainly driven by growing CPI pressure. Think about it, if you put your money into banks, your deposit is actually shrinking by nearly 3 percentage points as the interest rate is lower than the inflation rate," said Umang Pabaru, managing director of consumer research at Nielsen Greater China.
However, people are changing where they place their money. The proportion of people who plan to invest in current assets climbed 4 percentage points in the first quarter, while those who chose real estate declined three percentage points during the same period, the Nielsen report showed.
Chen Jia contributed to this story.