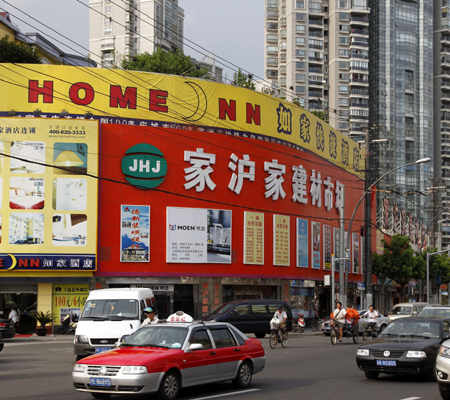 A budget hotel of Home Inn & Hotels Management Inc in Shanghai. The top four Chinese budget hoteliers Home Inn, Jin Jiang, 7 Days Inn and Hanting Inn all indicated an interest in acquiring the Motel 168 chain from Shanghai Motel Management Co. [Photo / Bloomberg]
SHANGHAI - With eyes on the popular Chinese motel chain that could fetch up to $1 billion, the top four Chinese budget hoteliers, 7 Days Group Holding Ltd, Shanghai International Jin Jiang Hotel Group, Hanting Hotel Group and Home Inns & Hotel Management Inc all indicated their interest in acquiring Motel 168 Hotel Group recently - along with other bidders such as Europe's largest hotel group Accor.
The US investment bank Morgan Stanley brought a 20 percent share of Shanghai Motel Management Co, the company that operates the Motel 168 brand, for $20 million in 2006 and now controls 59 percent after two further investments. It hasn't said why it wants to sell now.
But its offer to sell is expected to kick off a keen bidding contest between hotel operators who are rushing to establish their presence in the budget hotel sector during a time of a room glut in the luxury hotels, especially in the major cities.
Hotel industry experts said that Morgan Stanley has picked the right time to sell because the delay for Motel 168 to obtain a listing on the depressed stock market may be prolonged.
The sale of Motel 168 could be a game-changer for Chinese hotel chains. An acquisition by either 7 Days, Shanghai International Jin Jiang or Hanting Hotels, the second, third and fourth players, would help them leapfrog Home Inns in terms of number of rooms.
As for Accor SA of France, which is unhappy with the development of its Ibis budget brand in China, Motel 168 is expected to be a saver.
"It's the quickest way for Accor to gain greater market share in China's budget hotel sector," said Adeline Phua, associate director of HVS Global Hospitality Services.
Accor, the fourth-largest hotel group globally after InterContinental, Marriott and Starwood Hotels, established its lower-end Ibis brand in China with the opening of its first property in Tianjin in 2004. But its budget hotel business in the country has grown at a slower rate than expected and only 52 Ibis's have been opened since, just a little more than half of the company's original plan.
"Even though foreign brands have made forays into the market, they have been outperformed by the domestic counterparts in both networks and recognition," said Zhao Huanyan, a professor at the Shanghai Academy of Social Sciences.
"China's local budget hotel operators have never been hungrier than in the past 10 years, the top three (domestic players) created sales amounting to 40 percent of the sector's total," Zhao said. Foreign hoteliers have less than 5 percent of China's budget hotel share.
"Those well-known international hotel groups are famous for their high-end luxury product, while there aren't many key players in China's budget hotel market," said Lily Ng, vice-president of sales and marketing at Jones Lang LaSalle Hotels.
Reasons for that partly lie in the price-sensitivity of customers at China's budget hotels. International chains usually charge more than the locals, for example, Ibis's upcoming branch in Shanghai's Xujiahui district (it will open in April) is asking 299 yuan ($45.5) a night, while on average the price of a room at the 7 Days Inns nationwide is 170 yuan and Home Inn is 190 yuan.
Related readings:


 First 5-star hotel opens in Wuhu


 Hotel industry struggles to provide service with a smile


 China's first capsule hotel denied license due to safety concerns
Tina Cao, a 25 year-old sales executive with Hong Kong-based media firm TOM Group Limited's Shanghai branch, said her company has cut back on business travel since the global financial crisis in 2008 and she has had to downgrade to stay in a cheaper budget hotel. "I have to travel more these days to drum up business but the travel budget is shrinking to cut costs," said Cao, who travels frequently between Hong Kong, Beijing and Shanghai.
"Tourists (at budget hotels) are demanding lower and lower rates and there is no brand loyalty left in this business. Customers will go to the ones offering the best deal in town," lamented Ng. She also mentioned that one advantage of a local brand is they have better cost-control on their properties.
According to the 21st Century Business Herald, a total of 30 million yuan investment was put to Tianjin's first Ibis in 2004, which means each of its 157 rooms cost more than 200,000 yuan. Local hoteliers usually spend less than one tenth of this amount on each room.
According to a Reuters report, Accor had earlier held talks with private equity funds about forming a bidding consortium for the asset. It also mentioned potential private equity partners for the hotel group included Blackstone Group and Carlyle Group.