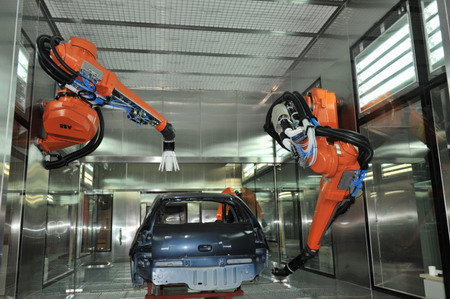 ABB Group opened China's first robotic automotive paint facility in 2010. [Photo / Provided to China Daily]
BEIJING - The power and automation technology giant, ABB Group, will invest more than $100 million in China this year, to maintain its robust growth in the country, a senior official said.
"We will keep up our investment scale in China this year, as we have maintained strong organic growth in 2010 in spite of the global financial crisis and challenging market conditions in the power transmission domain," said Claudio Facchin, president of ABB North Asia Region and China.
Taking energy efficiency, industrial productivity and power reliability as its key business drivers, ABB has kept a steady annual investment of more than $100 million in China during the past seven years in manufacturing facilities, refining and expanding designs, and localizing the latest technologies and products.
"ABB has accelerated its footprint in China since the global financial crisis broke out and invested more than $500 million in the last three years," said Facchin.
The company's China unit released its 2010 result on Monday, which showed the country retaining its top market position for the ABB group, with revenue of $4.5 billion, representing year-on-year growth of 10 percent and 50 percent growth in export.
China is also an important materials and components sourcing hub for ABB's worldwide operations. The company sourced materials and components worth $3.6 billion in 2010, up 37 percent from the previous year, which strongly contributed to ABB's global cost-reduction program.
"ABB has decided to set up its global purchasing center in China this year," said Facchin. "ABB's strategy for China has been evolving from 'in China for China' to 'in China for China and the World' since early 2010, with greater effort on innovation and research and development (R&D). This widely implemented strategy has proved to be key for our continued success."
Related readings:


 ABB to maintain investment pace


 ABB Group CEO: Taming global climate change

 ABB's Hogan eyes green revolution


 ABB group provides smart technologies in China
Meanwhile, ABB achieved strong growth in renewable energy, water, railways and services in China last year, as it played an active role in supporting the country's rapid development in these areas.
According to Facchin, ABB achieved 49 percent growth in wind, 26 percent growth in water and 24 percent growth in the service business.
ABB is also keeping a strong focus on the railway industry. It established a new company called Guangzhou ABB Microunion Traction Equipment in Guangzhou last year and localized more railway-related technologies and products.
"I anticipate continued strong growth in the energy-efficiency and emission-reduction, renewable-energy, water, railways, and services fields. ABB will maintain its strong investment pace in China this year," said Facchin.
Although many challenges still remain, ABB has listed a dozen important projects including building new factories, expanding R&D facilities, and furthering product localization on its investment agenda this year.
"We plan to increase our total China workforce to more than 18,000 people by end of 2011. This means we will recruit at least 2,000 new employees. Most of them will be engineers," added Facchin.