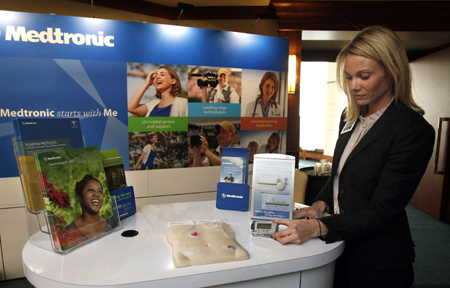 A Medtronic's representative shows a continuous glucose monitoring device at the company's display during the Cleveland Clinic's 2010 Medical Innovation Summit in the US. Medtronic intends to establish a modern servicing and manufacturing network, based in Shanghai, during the next five years. [Photo / Bloomberg]
SHANGHAI - Medtronic Inc, the worldwide medical technology leader by sales, announced the opening of its new regional headquarters in Shanghai on Wednesday, a sign of its determination to expand its presence in China, where demand for medical equipment and services continues to grow.
The facility is in line with the company's plan for further localization in China, including local product development and manufacturing in the city's Zhangjiang High-Tech Park in the Pudong New Area, said William A. Hawkins, company chairman and chief executive officer.
"I am very glad to see Medtronic has a permanent home in China, which means we will have a higher-level platform for future development in the region," Hawkins said.
Jean-Luc Butel, executive vice-president and group president of Medtronic International, said that China has the fastest rate of growth among emerging economies. To serve the expanding health sector, Medtronic will hire and train an additional 1,000 skilled staff members in the next five years.
"China, over the last four years, has consistently been our fastest-growing market," Butel said. "Today it is our fourth-largest country, and I'm sure in a few years it will be our second-largest country in the world (after the US)."
Butel said that China presents significant opportunities because of the size of the market, but also challenges, because it's a market in transition.
"China, just like other countries, is facing and will face increasingly difficult choices around healthcare - how to pay for healthcare, a huge ageing population," Butel said.
"China has very significant challenges. We look at China as our most important market in the world today because of these elements."
In the next five years, Medtronic will invest in R&D, clinical studies and manufacturing, and intends to establish a modern servicing and manufacturing network based in Shanghai, but with branches all over China, said Simon Li, vice-president of Medtronic and president of Medtronic Greater China.
According to Butel, 600,000 patients each year use Medtronic technology in China, and the company aims to touch 10 million patients in the next 10 years.
Related readings:


 China pledges affordable medical service


 GE Healthcare aims to boost medical facilities


 China to further ease cost of medical services


 Chinese firms shine at Dubai's medical fair
Butel is confident that China will ultimately become Medtronic's largest market, ahead of the US. "This is the potential here, and we will continue to invest in this country," he said.
No Chinese company can pose a threat to Medtronic's dominant position in the high-end medical device sector, said Su Jinjiang, an industrial analyst from Nanjing Securities. Compared with the situation in the US, the sector is new and underdeveloped, Su said.
Up to 30 percent of the nearly 100 billion yuan ($15.24 billion) medical device market is occupied by foreign players, Su said, and nearly 70 percent of high-end medical equipment is imported.
Medical device manufacturing requires not only advanced technology, but also sophisticated medical experience, which makes it extremely hard for domestic companies to catch up with their foreign counterparts, he said.
China's medical device sales reached 61.4 billion yuan in 2010, up 35.84 percent compared with 2009, according to Su.
Medtronic China is based in Shanghai and has business operations on the Chinese mainland, in Hong Kong and Taiwan.