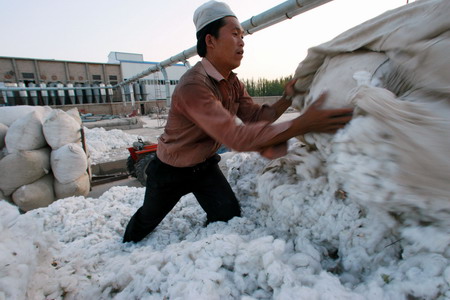 A worker empties bags of cotton at a factory in the Xinjiang Uygur autonomous region. ICBC Leasing Co made a deal for more than 60 cotton pickers worth 70 million yuan in Xinjiang, which was the largest agricultural leasing business last year. [Photo / Bloomberg]

The total assets of financial leasing firms rose to 310 billion yuan in 2010
BEIJING - Assets of China's financial leasing companies totaled 310 billion yuan ($47.15 billion) in 2010, up from 160 billion yuan the previous year, playing an increasing role in promoting agriculture.
"They have strong financial strength and profitability capabilities," said Cong Lin, vice-director at the Financial Leasing Committee of the China Banking Association.
The total assets of financial leasing companies increased to 310 billion yuan in 2010, from 20 billion yuan in 2007 and 160 billion yuan in 2009, and their net profits after tax rose to 3.7 billion yuan last year, from 1.1 billion yuan in 2008.
After the government approved banks setting up financial leasing companies in 2007, banks were shareholders in nine of the 17 companies by the end of 2010. The companies lease often-costly agricultural equipment, helping farmers to save their cash flow.
"Six companies' return on equity (which measures a company's profitability) is more than 10 percent, and they have good prospects, since some are just starting the businesses," said Cong.
Related readings:


 VP stresses financial support to rural development


 China to face food supply pressures


 China plans to increase lending to agriculture


 Investment targets grain production
Cong said that the ICBC Leasing Co made a deal for more than 60 cotton pickers worth 70 million yuan in Xinjiang Uygur autonomous region, the largest agricultural leasing deal last year. ABC Leasing Co reached a strategic cooperation agreement with the Xinjiang Production and Construction Corps to provide services for farmers.
Cai Esheng, vice-chairman of the China Banking Regulatory Commission, said that financial leasing can contribute greatly to the agricultural sector.
"It can lower the capital pressure on farmers and make capital use more efficient," Cai said.
But he conceded that the financial-leasing industry would face large risks in the event of natural disasters.
Farmers would have difficulty paying rent in those circumstances as their productivity would be cut.
"These leasing companies can cooperate with agricultural equipment manufacturers and agricultural product processing companies to find more business opportunities" to minimize the risk, Cai said.
The capital-adequacy rate of the 17 companies is more than 12 percent and the required rate is 8 percent. Cai encouraged them to use financial tools to enlarge their assets and set up mechanisms to control risk.
Cong said the agricultural industry has great potential because the mechanization rate of crops is now 49 percent and will grow to more than 60 percent by 2020, according to industry estimates.
However, the People's Bank of China, the central bank is going to limit the scale of financial leasing companies by imposing reserve-requirement ratios similar to those for commercial banks, Ma Changchun, a leasing lawyer at Filong Law Firm, told China Daily. The bank aims to control risks as the sector expands rapidly, she said.
The central bank was not available for comment.