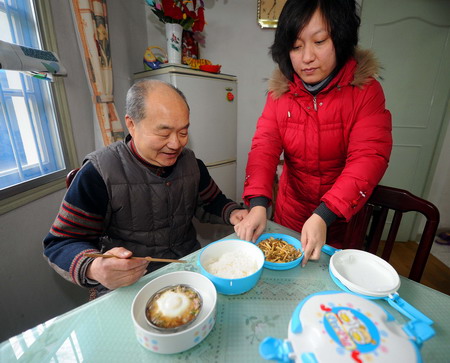 Li Jianye, 78, enjoys a meal delivered to his home by the Macheng community canteen in Hangzhou, Zhejiang province, on Tuesday, when the canteen began providing delivery services for elderly residents who are living alone or having diffi culty getting around. [Photo / Xinhua] 
BEIJING - Masayuki Fujita, chief executive officer of Japan Frontier Age, a major non-profit organization that specializes in care for the elderly, was leading a group of Japanese enterprises in studying the Chinese market late last year.
These companies plan to bring their products and services to China, a nation that has 110 million people older than age 65 and is expected to have more than 400 million by 2050.
Tokyo-based Comfort-Life has decided it will cooperate with Japanese investors to set up a nursing home in Dalian, Liaoning province, in October 2012. And Japanese Longlife will launch its service facilities for the elderly in Qingdao, Shandong province, in October and open 50 outlets around China by 2020.
Japanese entrepreneurs' enthusiasm for China's elderly care sector is just one example of foreign interest in China's service industry, for which the central government has set ambitious developmental goals.
Ambitious plan
According to the draft of China's 12th Five-Year Plan (2011-2015), which will be discussed at the fourth session of the 11th National People's Congress starting on Saturday, the sector's proportion of gross domestic product (GDP) should increase by 4.2 percentage points by 2015 to around 48 percent. The number of people employed in the sector is expected to grow by 5 percentage points to 41 percent.
The figures are higher than the goals set in the previous five-year plan - 3 percentage points for GDP and 4 for employment. Those targets, however, were not reached last year.
Related readings:


 Service industry needs further boost: report


 Making the case for a service industry tri-zone


 Business leaders to promote service sector at APEC


 City finds life tough without migrant workers
Economists attributed the failure to the unexpectedly fast growth of China's GDP. The annual increase of the GDP hit 9.1 percent in 2009 and 10.3 percent in 2010, compared with the planned average year-on-year growth of 7.5 percent from 2006 to 2010.
According to Chen Naixing, director of the Small- and Medium-Sized Enterprises Research Center under the Chinese Academy of Social Sciences, it is also partly because of the current statistical model, which refers some service industry businesses to the agriculture and raw material sector, such as service units of large industrial enterprises.
Although the nation's service sector has seen rapid growth in the past five years, it still lags behind the demand generated by the nation's fast economic growth and that of developed economies, Zhang Ping, minister of the National Development and Reform Commission, said in a report. China's service industry accounted for 43 percent of the nation's GDP, just slightly under the planned 43.2 percent last year, but much lower than the 75 percent in the United States and some 60 percent in Europe.
"The gap implies there are both challenges and opportunities in China. We have to deal with problems that hinder the rapid growth of the service industry, while there's huge room for development in the sector," said Feng Fei, industrial economy studies department director at the Development Research Center of the State Council. Feng suggested that further opening-up will help industrial upgrading, given multinational companies' long history and rich market operating experience in the industry.