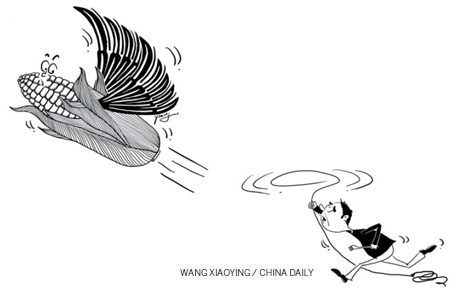 Food prices are soaring to new highs only three years after the 2007-08 food crisis. The international prices of wheat, for example, increased by 85 percent between June 2010 and January 2011. Domestic food prices are also rising in many countries. In China, food inflation rose 10 percent between December 2009 and December 2010, driven mainly by higher prices for meat, dairy, vegetables and fruits.
Global food prices are being pushed up by some of the same factors that lead to the food crisis of 2007-08 - expanding biofuel production, rising oil prices, US dollar depreciation, export restrictions, and panic purchases. However, today's world food situation is quite different in some important ways. Overall food production and grain stocks in developing countries are still plentiful, and the international price of rice, the main staple in Asia, has not increased that much compared to three years ago.
There are concerns about new production shocks due to extreme weather events, such as the recent drought in Northern China. But, while the drought could lead to production shortfalls of wheat, the major winter crop in the region, it is not likely to push prices higher. China has sufficient wheat stocks and the government has taken some important steps to alleviate the impact of the drought and to secure wheat supplies.
However, these actions should be supported by further measures to prevent price hikes. Additional grain stocks, for example, should be released and targeted to the poor.
High and volatile food prices are particularly harmful for the poor, who spend a large proportion of their income on food and have a limited capacity to adjust to sudden price shocks. Evidence has shown that large increases in food prices considerably reduce both food consumption and food security. The food security of poor people and vulnerable groups, particularly women and children, is again at risk due to the steep food price increases. For poor agricultural producers, high food prices are not necessarily harmful if they are net sellers of food, but increased price volatility can significantly undermine their income and thus food security.
When global leaders convene for the G20 meeting, discussions should focus on adopting a comprehensive approach to prevent the re-occurrence of another food crisis.
First, social safety nets should be established to protect the most vulnerable groups, including women and young children. Safety nets should be combined with intervention that increases production capacity and improves the nutrition and health of vulnerable groups. Indeed, combined social protection and agricultural support can have a greater impact on food security than any intervention implemented separately. To effectively tackle undernourishment, direct nutritional intervention targeted at adolescent girls and the 1,000 days from conception to a child's second birthday should be scaled up.
Second, transparent, fair, and open global trade should be promoted to enhance the efficiency of the global agricultural markets. National governments should be encouraged to eliminate existing export restrictions and refrain from imposing new ones. Although export bans may help to secure domestic food supplies, they tend to exacerbate global price hikes, particularly in food-importing countries. Similarly, the import tariffs and non-tariff barriers of large importing countries should also be reduced. A quick and favorable completion of the World Trade Organization (WTO) Doha Round is essential.
Third, a global, emergency grain reserve should be established to address food price volatility. Owned and managed by an institution like the United Nations World Food Program (WFP), such a reserve should be established through donations of grain stocks from large food producers such as the United States, China, and India. This reserve should be strategically positioned in these food producing countries and, more importantly, in food importing poor countries, such as Bangladesh and the countries in the Horn of Africa, for easy and fast access in times of crises. Regional shared reserves for specific commodities, such as the ASEAN+3 emergency rice reserve currently under discussion, are also critical for responding to adverse weather.
Fourth, policies and investments to promote agricultural growth, in particular smallholder productivity, in the face of climate change should be put in place. To help smallholder farmers increase their productivity and income, investments should be scaled up to improve their access to inputs such as seeds and fertilizer, as well as financial and extension services and weather-based crop insurance. New agricultural technologies suitable for smallholders should also be strongly promoted and rural infrastructure should be strengthened to increase access to markets. Also important are investments in climate change adaptation and mitigation measures that use the full potential of agriculture.
Related readings:


 Mainland's food price inflation a permanent feature


 Measures 'ease food price surge'


 Report: climate change to push up food price by 2050


 Govt to introduce food price rules
Fifth, an international working group should be created to regularly monitor the world food situation in a coordinated, transparent and timely fashion in order to prevent excessive price volatility. This working group should be made up of key institutions, such as the International Food Policy Research Institute, the Food and Agriculture Organization of the United Nations, the World Bank, the WFP, the Organization for Economic Cooperation and Development, the United Nations Conference on Trade and Development, the International Fund for Agricultural Development, and the WTO. The working group should pay close attention to food production, consumption, trade, stocks, prices, policies, and speculation. It could also provide guidance on the optimal level of grain reserves to be held for food security emergencies, when and how to release them, and at what prices.
To enhance sustainable food security, these actions need to be taken now. Both developed and developing countries have crucial roles to play.
The author is director general of the International Food Policy Research Institute based in Washington DC.