SHANGHAI - Policies aimed at cooling down the city's residential property market have started to take effect, and trading volume withered in the first week of February. But analysts say investors might tap into commercial properties to evade the higher cost of the residential realty market.
Seventy units of newly built residential properties were sold during the eight days from Feb 1 to Feb 8, a nosedive of 96.2 percent compared with that period in 2010, according to Century 21 China Real Estate data, a US-headquartered property service provider.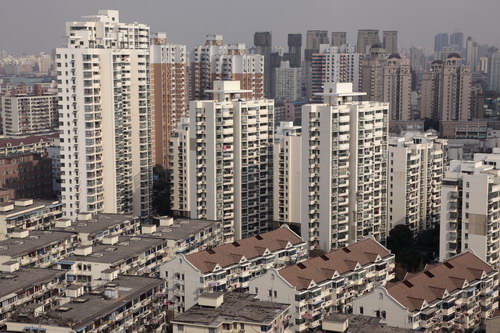 Apartment buildings in Shanghai. Analysts say investors might tap into commercial properties to evade the higher cost of the residential realty market. [Photo/Bloomberg]
Fifty-three percent of the 70 units were between 90 square meters (sq m) and 140 sq m, 27 percent were smaller than 90 sq m, and the remaining 20 percent larger than 140 sq m.
"This is in a sharp contrast from one month ago, when larger apartments were more preferred," said Luo Yinshen, a researcher at the Century 21 China Real Estate in Shanghai. "This indicates the property tax has influenced home buyers' decision," Luo added.
"Our stores located near high-end communities such as Lianyang of Pudong New Area and Gubei of Changning district didn't have any customers during the week-long holiday," Luo said.
"The business slump resulted partly from the holiday effect, but the rush in late January to sign deals ahead of the newly levied property tax also helped," said Lu Qilin, deputy director of Uwin Real Estate Research Center.
Related readings:


 Shanghai property tax hard to gauge


 Property tax aimed at cooling hot residential market


 Property market to stall as new regulations bite


 Real estate sales strong in Hainan
According to Lu, the property tax's reining in of the city's housing speculation was reinforced by the central government's new housing regulation released a day before, and investors would think twice when facing the higher cost of buying a house in Shanghai.
On Jan 26, the State Council released tightening measures to cool down the nation's housing market, including increasing the down payment on second homes to 60 percent of the full price from previous 50 percent.
Despite those measures, 60 percent of 186 families with an annual income above 500,000 yuan ($75,857) still favor investing in housing, an online survey conducted by Beijing Youth Daily showed.
"To cope with the increasing threat of inflation, commercial properties are the next hot item," said Liu Tianbiao, a businessman in Zhejiang. Liu wanted to try his luck in commercial properties.
He noted that commercial properties require a 50 percent down payment, instead of the 60 percent for second homes, and that there are no limits on buying more.
On Tuesday, China's central bank raised the interest rate for the third time since October, lifting its benchmark one-year deposit rate by 0.25 percentage point to 3 percent, and its one-year lending rate by a similar amount, to 6.06 percent, a further move to tame inflation and rein in the residential property market.