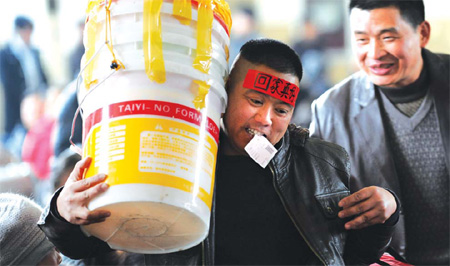 Yang Jiao, with a piece of paper saying "it is great to go back home" on his forehead, carries his luggage to a train at the railway station at Jiaxing city in East China's Zhejiang province on Sunday. Yang, a merchant from Chongqing in Southwest China, bought a standing-room ticket after spending three days lined up at the ticket office. [Photo / China Daily]
Fears about high ticket prices prove unfounded as passengers flock to take advantage of new services
BEIJING - Nearly 20 percent of Chinese train travelers have turned to high-speed lines during the Spring Festival peak travel period, Wang Zhiguo, vice-minister of railways, told a news conference on Sunday.
The holiday period, known as the chunyun period, sees massive numbers of travelers return to their hometowns for family reunions during the Spring Festival.
"The high-speed railways have played an important role in the chunyun period as more than 1 million people are being shipped (by high-speed trains) every day," Wang said.
This year's chunyun period started on Jan 19 and will end on Feb 27, with Chinese New Year falling on Feb 3.
By Saturday, 837.8 million travelers had been transported in China by means of trains, buses, ships and planes in the chunyun period, according to figures provided by the ministries of railways and transport and the Civil Aviation Administration of China.
Wang also specified the current transport volumes on several main high-speed railways to dismiss doubts on such railways' roles in the period.
The number of people taking the Wuhan-Guangzhou high-speed railway connecting Wuhan, the capital of Central China's Hubei province, and Guangzhou, the capital of South China's Guangdong province, had exceeded 100,000 every day, said Wang.
This year, the Wuhan-Guangzhou high-speed railway handled its second chunyun since it started operations in December 2009.
The number "accounted for half of the volume of all train passengers traveling along the railway", Wang added.
Related readings:


 China's high-speed train development at record high


Faster but costly, high-speed train sparks controversy 


High-speed train sparks controversy 


High-speed railway to boost trade 

For the high-speed railway linking Wuhan and Shanghai, the proportion is 86 percent, with 107,000 travelers being shipped every day, according to Wang.
The public had feared that the high fares for high-speed trains might turn travelers away as ticket prices for slower trains have remained unchanged for more than a decade.
Wang also predicted that the high-speed lines will have an even bigger role in 2012's chunyun, because their mileage will increase by 4,715 km by the end of this year.
The new high-speed railways will include three lines that link Beijing and Shanghai, Beijing and Wuhan, and Beijing and Harbin, capital of Northeast China's Heilongjiang province.
However, the peak level of transport has yet to come for this year's chunyun, officials at the news conference said.
The number of people traveling by bus and ship will reach a peak in the next three days, Feng Zhenglin, vice-minister of transport, said on Sunday.
He estimated the daily number of people traveling by bus will exceed 75 million.
The peak period for railways will come between Feb 8 and 12, with the average number of train travelers reaching 6 million a day, Wang said.