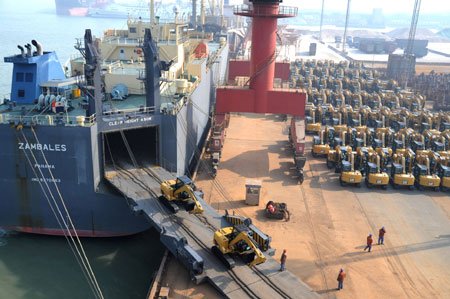 Workers unloading cargo at the Lianyungang port, Jiangsu province. The Minister of Commerce Chen Deming said China would double its imports by 2015. [Photo / China Daily] 
DAVOS, Switzerland - Ten years ago when China laboriously won membership of the World Trade Organization (WTO), many were doubtful. Who would be the biggest losers, they asked, China, or the rest of the world?
Looking back and reflecting on the debates on China's WTO entry during that time, the organization's chief Pascal Lamy disappointed the doubters.
Admitting that China joined under terms much tougher than those imposed on any other developing country - a "bitter pill" which turned out to be "an insurance policy against protectionism" - he concluded during an interview with China Daily. "It seems that nobody has been a loser it is win-win."
At a panel discussion with Lamy on the tenth anniversary of China joining the WTO, the country's Minister of Commerce Chen Deming offered a list of figures to support Lamy's conclusion.
Describing the entry as a "courageous and tough" but the "right" choice, Chen said that in the past decade, China's average duty rate has dropped from 15.3 percent to the current level of 9.8 percent.
Meanwhile exports have increased 4.9 times and imports by 4.7, with a two-fold increase in economic output.
Meanwhile, Chinese consumption grew at an average rate of 15 percent between 2001 and 2010 and the nation ended up as the world's second-largest importer in 2010, with a total import value of over $1.4 trillion, accounting for 10 percent of the global total.
Chen pledged that the country will further open its economy, forecasting another decade of prosperity for it and the rest of the world. This will be done by encouraging Chinese companies to invest overseas, increasing foreign purchases and boosting domestic consumption.
The US is still experiencing difficulties with toxic assets, Europe is in a public debt crisis, and the emerging economies are facing inflationary pressures. That being the case, Chen said China will cooperate to help promote global economic recovery, even though the world's second-largest economy also faces severe challenges itself, not least rising inflation.
Chen also said China's imports will double during the coming five years.
"This (the doubling of imports) highlights China's commitment to balancing its foreign trade, and the nation's aim of shifting its economic growth mode to one driven by demand," said Li Yong, assistant to the chairman of the China Association of International Trade.
Chen Deming said the major task facing the commerce ministry in the next five years will be that of balancing trade by stimulating imports and stabilizing exports.
"Such a task (the doubling of imports) is not difficult to implement. A more optimistic estimation is that China's imports will more than double by the end of 2015," said He Weiwen, a standing council member of the China Society for WTO Studies.
According to data from the customs service, China's imports for 2010 surged to $1.4 trillion, a rise of 38.7 percent from a year earlier.
He Weiwen suggested that China reduce her reliance on imports of energy products and spend more on technology-related goods, in the sectors of agriculture, information, energy, infrastructure, aerospace, materials and autos.
During the recent annual Commerce Work Conference, the commerce ministry said it will launch guidelines on promoting imports of mechanical and electrical products this year.
Imports related specifically to new energy, new materials, energy saving, high-end equipment manufacturing, low-carbon technology, aerospace, shipbuilding and rail transportation will also be a focus.
Related readings:


 China slashes import tariff on computers


 Mainland, Taiwan jointly reduce import tariffs to implement landmark trade pact


 Stricter dairy import regulations drafted
On Thursday, China announced it will cut import tariffs on some electronic goods, including laptops and digital cameras, to 10 percent from 20 percent.
Chen also said he has consulted with his US counterpart to seek a doubling of US exports to China, amounting to $200 billion by 2015.
Chen told China Daily that "we will encourage Chinese companies to invest overseas", without giving a specific investment plan.
China's overseas investment soared to $60 billion in 2010 from around $1 billion 10 years ago.