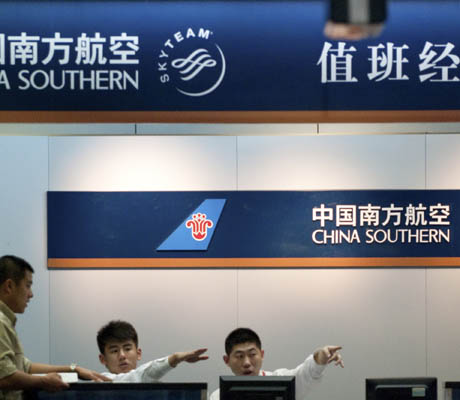 Employees of China Southern Airlines assist a traveler at Beijing Capital International Airport. The airline now offers flights to Nepal every day except Tuesday. [Photo/Bloomberg] 
Increasing demand from Nepali travelers prompts airline to expand
KATHMANDU, Nepal - China Southern Airlines, a SkyTeam member, has doubled the number of its flights from Kathmandu amid increased demand from tourists, students and business travelers.
The airline has added three more flights a week. Previously there were only 3 flights each week: Mondays, Wednesdays and Fridays.
Related readings:


 China Southern doubles Kathmandu flight numbers


 China Southern Airlines sees sharp jump in 2010 profit


 China Southern to be 1st Chinese airline to fly Boeing's 787 Dreamliner


 China Southern Airlines reports 9-fold profit growth in Q3 

"Now, the airline will fly every day except Tuesday," said Binod Bogati, station manager of the airline.
He added that the airline has a wide-ranging domestic network and also operates in countries such as South Korea, Japan, Australia and various European destinations.
Bogati confirmed that an increasing number of tourists are visiting, or are looking to visit, Nepal.
In addition, he said that Nepali business travelers and students frequently fly to China.
"The flights had 100 percent occupancy for the four months from September to December," he said, adding that some customers had to use other airlines and pay higher rates because they could not obtain a seat on China Southern's flights.
Bogati said that the increase in the number of flights is a business extension, and an expansion of access for Chinese tourists to Nepal. Also, many Nepali visit China for a variety of reasons.
"Another major reason for the increase in flights is the national program of Nepal Tourism Year 2011", he said.
Bogati said that the company wants to help make the tourism year a success and the additional flights will be one way of achieving that aim.
Talking to Xinhua on Monday, Kamal Regmi, a travel agent, said that the increase in flights means he can easily book cheap fares for customers.
"Our clients are basically business people and Nepali students. The rise in the number of flights will definitely increase our business too, and will provide great support for the Nepal Tourism Year 2011," he added.