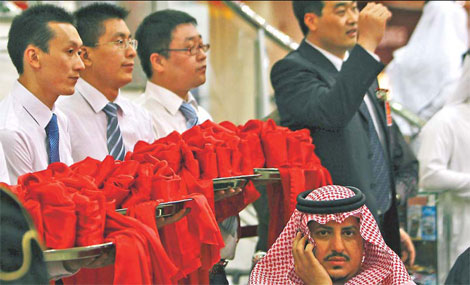 Saudi Arabian and Chinese citizens attend the opening ceremony of the China Market in Riyadh. China's 2010 overseas direct investment in the non-financial sector grew by 36.3 percent from a year earlier to $59 billion. [Photo/AgenciesReuters] 
Analysts predict rapidly increasing investment due to mutual needs
BEIJING - China's investment in the United States will grow by more than 50 percent this year, as the US market becomes more open and transparent, said an official from the Ministry of Commerce.
Last year, China's total overseas direct investment (ODI) in the non-financial sector grew by 36.3 percent from a year earlier to $59 billion, but comparatively, the nation's ODI in the US surged by as much as 81.4 percent year-on-year to $1.39 billion, according to statistics released by the Ministry on Tuesday.
As bilateral economic relations become stronger and Chinese companies' aspiration for overseas expansion increases, the nation's investment in the US will "probably continue to grow rapidly, say by 50 percent", said Yao Jian, a ministry spokesperson.
However, what concerns China is whether the US "can further open the market to Chinese companies, offering transparent laws and reducing the possibility that the approval of proposals from the Chinese side can be delayed, or even rejected, because of so-called security reasons", he added.
On Tuesday, Chinese President Hu Jintao left for Washington on a four-day state visit. The hot topic of "the removal of investment barriers" imposed on China, is expected to be discussed during the bilateral meetings. Other issues include a loosening of controls on high-tech products, recognition of China's market economy status and resistance to trade protectionism, said Yao.
The majority of Chinese investment has flown into manufacturing sector in the US, but during the past year, a new trend has seen some domestic companies beginning to make forays into the US service sector. The Chinese e-commerce giant Alibaba Group acquired two of its US counterparts in 2010.
Meanwhile, the US was one of the three most-rapidly growing markets for Chinese investment in 2010, following the European Union (EU), in which Chinese ODI grew by 297 percent, and Japan, where it rose by 120 percent.
The volume is still small, however. In 2010, the top four overseas markets for the ODI witnessed capital inflows of $33.77 billion (Hong Kong), $2.93 billion (Australia), $2.57 billion (the Association of Southeast Asian Nations) and $2.13 billion for the EU.
Yao attributed the low figure to a lack of "openness and transparency" in the US, citing the obstacles that Chinese companies, including Ansteel, have failed in attempting to purchase US counterparts. "Trade is only part of the bilateral economic relationship, and investment will play a more important role in the future," he said.
China's large trade surplus has been a cause of China-US frictions, and the Chinese government and experts reiterated that more Chinese investment into the US could create jobs and narrow the surplus, and have urged the US to let the market open further.
Two vice-commerce ministers have led delegations to promote Chinese investment into the US and China's imports from the US.
Sharp increase
After rising by 6.5 percent in 2009, China's ODI gained by 36.3 percent last year, with around 40.3 percent of total investment being realized through mergers and acquisitions.
Related readings:


 Wenzhou tests individual ODI to cool inflation


 China's 2006-2010 ODI totaled $216.6b: MOC


 China's ODI reaches $47b for Jan-Nov


 ICC to probe latest ODI at Oval

Investment mainly went to sectors such as commercial services (47.3 percent), mining (20.2 percent), manufacturing (10.2 percent) and retail and wholesale (9.3 percent).
"As the internationalization of the yuan accelerates, China's ODI will grow remarkably in the next two years. The growth could reach more than 50 percent this year," said Jinny Yan, economist at Standard Chartered Shanghai.
"Emerging markets and those owning abundant raw materials and resources will be hotspots for Chinese investors, including Canada, Latin-America, Brazil, Australia and South Africa."
China's foreign direct investment (FDI) in 2010 reached a record high of $105.74 billion, up by 17.4 percent year-on-year.
FDI growth of 28.6 percent made a significant contribution to the service sector, as it did in the central and western areas where it was 27.6 percent, said Yao.
The top five sources of the FDI are HK, Taiwan, Singapore, Japan and the US.
According to FDI Intelligence, a special division of the Financial Times newspaper, FDI growth into Asia slowed to 6 percent in 2010 from 16 percent in 2009, with China the best performer in the region.