As the Year of the Rabbit approaches, President Hu Jintao is preparing to pay his first official state visit to the United States in five years to meet with US President Barack Obama. Relations between the two major countries were mixed in 2010, with brighter spots arriving late in the year.
Hu's visit to the US will mark an opportunity to move forward with an enhanced spirit of trust, mutual respect, and cooperation. The US and China share mutual interests and are interdependent in many key sectors. This is especially true when it comes to clean energy and climate change, which offer significant opportunities and benefits for working together.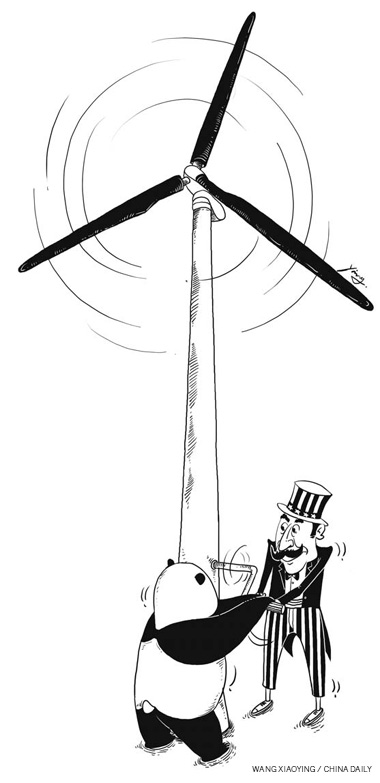 According to the World Energy Outlook, the renewable energy sector presents a $5.7-trillion global market from 2010 to 2035.

The US, a traditional leader in technological innovation, and China, an emerging clean energy innovator, both are well-positioned to take advantage of this market and help lead the world toward a low-carbon future.
The US and China face similar challenges in energy security because of their significant reliance on fossil fuels. In 2009, the US was the world's top oil importer with 9.6 million barrels a day, while China was the second largest with 4.3 million barrels a day.

Both countries are also heavily dependent on coal, which is relatively inexpensive but a major driver of greenhouse gases and other pollutants. Together, the US and China consume about 60 percent of the world's coal.
At the same time, China and the US recognize that the pursuit of alternative, cleaner energy choices offer opportunities for enhanced energy security, more innovation, and less pollution. The US government has invested nearly $70 billion in clean and renewable energy through the American Recovery and Reinvestment Act alone. The US Department of Energy has 17 national laboratories across the country, many focusing on clean energy research and development.
The Chinese government has been on an even faster pace of growth, expanding its production and technological advancement in wind and solar power, energy efficiency, transportation and other fields. For example, China will soon have the world's largest high-speed rail network, with railways such as the Beijing-Tianjin and Wuhan-Guangzhou already in operation. The Beijing-Shanghai high-speed line, being built at a cost of $33.3 billion, is scheduled for completion by June 2011.
As demonstrated by the 2009 joint announcement on clean energy cooperation by Hu and Obama, the advantages of working together in this area are far-reaching. One such example is the US-China Clean Energy Research Center, in which World Resources Institute is involved. This initiative - supported by $150 million in combined public-private funding from the US and China - will facilitate joint research and development of clean energy technologies with a focus on advanced coal research, carbon dioxide capture and storage, building energy efficiency improvements, and clean vehicle technology. This type of project can promote greater understanding and collaboration in the years ahead.
A shift toward clean energy carries critical environmental benefits, too. Climate change, which is primarily driven by emissions from fossil fuels, poses a major risk to developed as well as developing countries. Many governments are beginning to wake up to these threats and take action. Domestically, China has been taking steps to fulfill its pledge to reduce its carbon intensity by 40 to 45 percent from the 2005 level by 2020.
Progress has been slower in the US, especially because of the collapse of climate legislation in Congress last summer. Nevertheless, US federal agencies, especially the US Environmental Protection Agency, and some states have begun implementing policies to limit emissions. A World Resources Institute analysis shows that the US can get close to its 17 percent emission reduction target for 2020 (compared to the 2005 level) if the federal government and states move aggressively in this direction.
Internationally, the US and China demonstrated greater constructive engagement at the United Nations climate conference in Cancun, Mexico, late last year. Marked by less rhetoric and more cooperation, the result was a modest step forward with the Cancun Agreement, a set of decisions that brings emissions among the world's major economies under the UN's framework.
Related readings:


 Expanding clean-energy cooperation


 Clean energy hot for many


 Top legislature reviews clean-energy vehicle tax bill
Another important area for the two countries' cooperation is China's rapid urbanization. By mid-century, about 1 billion Chinese are likely to be living in cities, an increase of 350 to 400 million - more than the entire population of the US. Rapid urban expansion carries challenges of more pollution, strains on infrastructure, greater traffic congestion, and pressure on natural resources. But the shift will also create more demand for capital investment in urban building, raw materials and energy production. If done properly, China can grow in efficient and sustainable ways, and give its people greater access to education, technology and other modern conveniences to enable them to lead a higher quality of life.
As China moves toward a pathway of environmentally smart urbanization, Beijing and Washington both stand to gain. The US and China can share lessons, and benefit from enhanced cooperation and technology transfer. For instance, China's explorations to improve building energy efficiency, sustainable urban transportation, and spatial and master planning techniques, will benefit the US as well. Cooperative exchanges between the two countries should be conducted at the national and sub-national levels, allowing Chinese provincial and US state-level officials, urban planners, transportation experts and others to share their knowledge and best practices.
The time has come for greater cooperation in clean energy between the US and China, which can set the stage for a new, modern and sustainable future. Perhaps this year will mark a new phase in collaboration between the two countries. If so, clean energy and climate change will be a good place to start.
The author is president of Washington-based World Resources Institute, a non-partisan, independent think tank