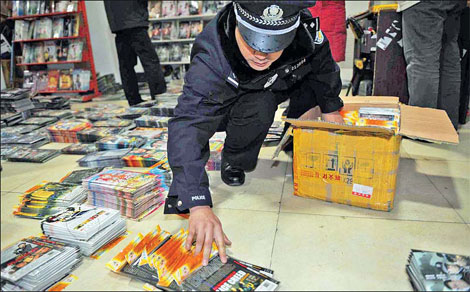 Police raided six shops allegedly selling illegal discs in Nanjing, Jiangsu province. China has vowed to strengthen the fight against intellectual property right infringement. [Photo / China Daily]


China 'willing to actively increase' cooperation against idea theft
BEIJING - The Chinese government is "willing to actively increase" cooperation with the United States on intellectual property rights (IPR) and the nation will take a "responsible" attitude in advancing IPR protection "in the long term", said the vice-minister of commerce.
Jiang Zengwei, also director of the national leadership team on the six-month high-profile campaign combating IPR infringement, also said that the project of software legalization, an issue the US has been very concerned about, is "well under way". He said that by May, China's central government will have legal software in all of its offices and local governments will follow by October.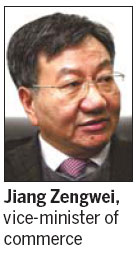 Jiang's comments were made during an exclusive interview with China Daily just days ahead of Chinese President Hu Jintao's state visit to Washington in mid-January, during which the IPR issue is expected to be a major topic.
In October, the State Council launched a six-month campaign against pirated goods, the government's most comprehensive effort to promote IPR protection in recent years.
The main goal of the campaign is to strengthen protection of patents, trademarks and copyrights of a wide range of domestic and foreign goods, including books, videos, software, electrical equipment, auto parts, mobile phones, medicines and seeds.
Jiang said China's IPR efforts will be lasting. "The IPR protection is a systemic and tough task," and after the special campaign, the "national leadership team will thoroughly study the problems and the leads turned up during the campaign and improve the IPR policy, making it a long-term mechanism," he said.
"Such efforts will not only encourage domestic innovation and help China fulfill its goal of becoming an innovation-driven nation, but also highlight the country's commitment to abiding by international laws and creating fair competition for companies at home and abroad," he said.
China's 12th Five-Year Plan (2011-2015) is directing the nation to improve its innovation capabilities and foster a large set of innovative talents as soon as possible to step up efforts to make its economic growth more sustainable.
US multinationals and other foreign businesses have complained in the past year about insufficient IPR protection, together with government procurement and market access. Some companies, such as General Electric, said China's investment environment is "getting worse".
Related readings:


 Copyrighted video raises IPR awareness


 China to boost IPR protection in co-op with EU


 IPR cases jump as awareness increases


 Machinery heavyweights applauding Hangzhou IPR efforts

But Chinese leaders have repeatedly said the nation will improve the investment environment by all means, treating foreign companies the same as it does their domestic counterparts.
As the core of the IPR protection campaign, the national leadership team has identified 36 projects - including the 80 most important cases regarding trademarks, patents and music copyrights - to investigate and resolve. These cases involve many internationally famous brands, including Louis Vuitton, Prada, Marlboro and Nike, from nations such as the US and France.
Authorities identified an estimated 19,000 cases of IPR infringement and counterfeiting during the first two months of the campaign, 11,000 of which have been handled.
"China is committed to fiercely fight counterfeiting and dispel any doubts foreign investors may have regarding its investment environment and opening-up policy," Jiang said.
"We will strengthen our communication and coordination with foreign business, addressing their concerns on IPR protection. China will treat domestic and foreign companies equally on IPR protection," he said.
During the China-US Joint Commission on Commerce and Trade in Washington in December, China also made a commitment to address a wide range of issues, including ensuring that all software used in government departments is copyrighted.
By the end of December, the central government had purchased 47,716 legal software packages, worth 36.13 million yuan ($5.47 million) including 20,156 sets from overseas valued at 27.5 million yuan, according to statistics by the Government Offices of Administration of the State Council.