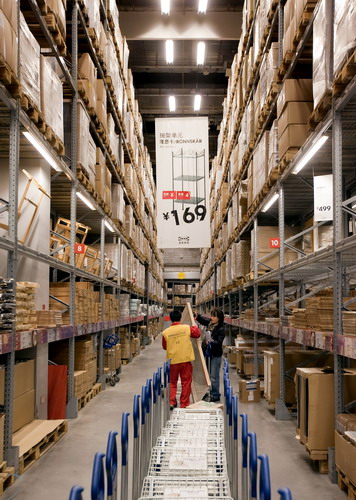 A shop assistant helps a customer in an Ikea store in Beijing. At present, China's consumer goods market ranks third after the United States and Japan with 9 percent of total global consumption. [Photo / Bloomberg]
BEIJING - China is expected to overtake Japan as the world's second-largest consumer goods market by 2015, according to a report released by the Boston Consulting Group (BCG) on Tuesday.
The report says that the most crucial key to winning and sustaining growth in this market for all Chinese and foreign companies is a tailored distribution model with tight controls over activities and retail.
At present, China's consumer goods market ranks third after the United States and Japan with 9 percent of total global consumption. That figure will increase to 14 percent, making China the second-largest consumer goods market in five years, according to the report.
"The great growth potential of the consumer goods market has been boosted by the country's ongoing economic restructuring as well as the rising number of middle-class consumers, said Li Hao, the Shanghai-based senior principal at BCG, and one of the primary authors of the report.
The number of China's middle-class and affluent consumers, whose annual household incomes exceed 60,000 yuan ($9,059) will nearly triple, from 150 million to more than 400 million during the next decade, according to the BCG forecast.
Related readings:


 US, China to enhance co-op on consumer product safety


 China consumer confidence continues to rebound in Dec


Consumer complaints website accused of corrupt dealing 


Uphold consumer rights 

"Although the country's fast-growing consumer goods market offers attractive business opportunities for local and foreign companies, there are numerous challenges owing to the fact that domestic distribution channels for consumer products are highly fragmented and have dramatic regional differences," said Li.
For example, the current market share of the top five retailers in China is only 22 percent, far lower than the figure for developed economies such as the US and Japan, which is around 70 percent, he said.
Even compared with other developing economies, China's figure is still low, he added. The market share of the top five retailers is 67 percent in Ukraine and 44 percent in India.
Challenged by the complexity and diversity of the distribution channels in China, players are expected to continue to refine and improve their distribution channel management in accordance with market evolution, as well as the categories and features of their own products, said the report.
"The right distribution system will depend on the specific circumstances of each company, such as the stage of channel development of its target market, specific features of its products such as unit value and shelf life as well as the abilities of its sales force and distributors," said Vincent Lui, a Hong Kong-based partner at BCG.
"Companies should weigh all these factors carefully and select the right channels and management models," said Lui.