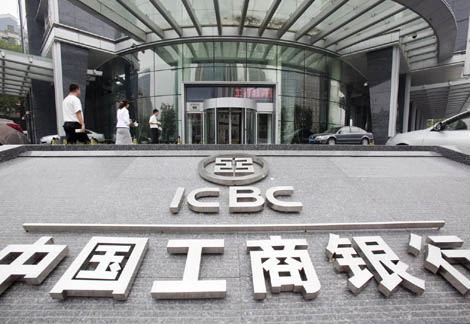 A branch of the Industrial and Commercial Bank of China Ltd (ICBC) in Beijing. On Friday ICBC and China Vanke Co led a gauge of banks and developers to its best weekly gain since October. [Photo/Bloomberg] 
SHANGHAI - Stocks on the Chinese mainland gained for the first time in three days, capping the benchmark index's advance in the first week of 2011, as banks and developers rose on speculation shares are undervalued given their earnings growth prospects.
Industrial and Commercial Bank of China Ltd (ICBC) and China Vanke Co led a gauge of banks and developers to its best weekly gain since October. SAIC Motor Corp climbed the most in a month after saying sales increased 31 percent in 2010. China Hainan Rubber Industry Group Co jumped 83.81 percent on its first day of trading.
Related readings:


 ICBC extends $1.5b credit to post-Expo construction


 Banks come close to reaching annual lending quotas


 ICBC opens new branch in Japan


 Chinese insurers up joint venture stakes
"Financial companies, such as banks and developers, were the underperformers last year with very low valuations," said Wang Zheng, Shanghai-based chief investment officer at Jingxi Investment Management Co, which manages about $120 million. "Expectations that their earnings will continue to grow and attractive stock prices triggered the rally."
The Shanghai Composite Index rose 0.52 percent to 2838.80 at the 3 pm close on Friday. The CSI 300 Index gained 0.22 percent to 3166.62, led by financial stocks.
The Shanghai gauge climbed 1.1 percent this week after dropping 14 percent in 2010, the worst performer among the 14 biggest world benchmark indices. The government ordered banks to set aside more reserves six times in 2010 and boosted rates twice to tame inflation and curb asset bubbles after record gains in lending and property prices.
A gauge of banks, developers and brokerages advanced 2 percent on Friday, the most among the CSI 300's 10 industry groups. Financial companies trade at an average 12.4 times estimated earnings, the lowest among the 10 industries, according to data compiled by Bloomberg.
The measure has jumped 3.2 percent this year, the biggest gainer among the 10 industry groups, after sliding 27 percent in 2010 as the worst-performing industry.
Industrial Bank Co, part-owned by a unit of HSBC Holdings Plc, jumped 7.06 percent to 26.52 yuan ($4) on Friday, the most since Nov 2. ICBC, the nation's biggest listed lender, rose 3.37 percent to 4.30 yuan. China Construction Bank Corp, the second largest, gained 3.28 percent to 4.73 yuan.
"We are very optimistic about China's banking stocks," Lewis Wan, chief investment officer at Pride Investments Group Ltd, said. "Inflation seems to be under control. The economy will continue to be good and NPLs won't go up too quickly," he said, referring to non-performing loans.
China Vanke Co, the biggest listed property developer, gained 0.57 percent to 8.89 yuan on Friday. Poly Real Estate Group Co, the second largest, advanced 0.07 percent to 14.39 yuan.
Ping An Insurance (Group) Co, China's second-biggest insurer, advanced 0.8 percent to 53.01 yuan. The company has no plan to conduct any refinancing exercise in the A-share market, Ping An said in a statement on Thursday night.
SAIC added 2.86 percent to 15.45 yuan, the biggest gain since Dec 13. The company said it sold 3.58 million vehicles in 2010. Sales rose 1 percent last month from a year earlier.
Anhui Jianghuai Automobile Co gained 1.96 percent to 10.90 yuan after saying profit probably jumped more than 240 percent last year. Chongqing Changan Automobile Co, the partner of Ford Motor Co and Mazda Motor Corp, rose 2.68 percent to 9.97 yuan. The company said it plans to raise as much as 4 billion yuan via the sale of as many as 410.7 million extra shares.
Hainan Rubber surged 83.81 percent from its offer price to 11.01 yuan. "Hainan Rubber controls almost all rubber resources in Hainan province, the largest reserves for the material in China, and it has the ambition to acquire more assets in the future," said Li Chenyan, an analyst at Donghai Securities Co in Beijing. "That has boosted investors' buying sentiment in the company."
Jiangxi Copper Co and gold producer Zijin Mining Group Co declined among commodity producers as a stronger dollar reduced the attractiveness of metals as an alternative investment.
Jiangxi Copper fell 4.69 percent to 42.87 yuan on Friday. Zijin Mining lost 1.25 percent to 7.89 yuan.