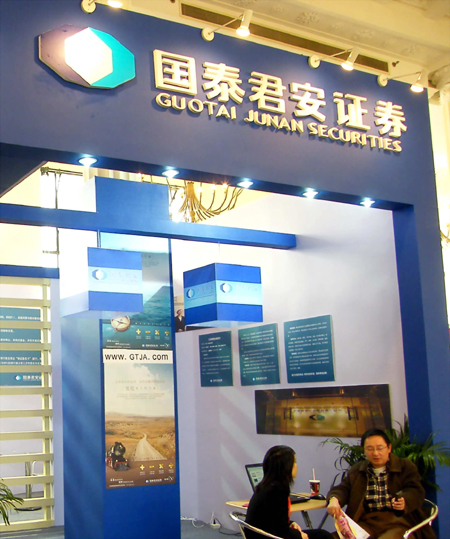 The booth of Guotai Junan Securities Co at a financial expo in Shanghai. Guotai Junan is the only major brokerage in China that predicts declines for 2011. [Photo / China Daily]
Major brokerage predicts government will increase borrowing costs to cool economic growth
SHANGHAI - China's stocks may slump for a second year as the central bank raises interest rates to tame inflation, according to Zhang Kun, a strategist at Guotai Junan Securities Co who correctly predicted last year's drop.
"There will be no gains again," Zhang, whose Shanghai-based Guotai Junan is the nation's second-largest brokerage by revenue, said in an interview. "Inflation is the biggest risk. The government will keep tightening."
Guotai Junan is alone among major Chinese brokerages in predicting declines for 2011. Citic Securities Co, China's biggest listed brokerage, and Shenyin & Wanguo Securities Co forecast gains of at least 25 percent in the benchmark Shanghai Composite Index.
China International Capital Corp (CICC), the only other major Chinese brokerage to correctly forecast the index's drop in 2010, also expects an advance this year.
The Shanghai Composite fell 14 percent in 2010 to 2,808.08, making it the worst performer among benchmark indices in the world's 10 biggest markets, according to data compiled by Bloomberg. The index dropped for the first time in five days on Wednesday to 2,838.59, losing 0.49 percent.
The central bank will continue to increase borrowing costs to cap inflation at around 4 percent this year after it reached a 28-month high of 5.1 percent in November, Zhang said. Last March, he said the Shanghai gauge, which had already dropped 9.2 percent, would fall a further 17 percent to 2,500 in the first half as the government boosted measures to cool economic growth. The index slid 27 percent in the first six months of 2010.
Hao Hong, global equity strategist at CICC, expects the Shanghai gauge to rebound as the economy grows more than 8 percent and inflation eases.
Last January, Hong predicted stocks would fall in the first six months as the government reined in property speculation. The Shanghai Composite dropped in the first half before rebounding 25 percent between July 1 and the end of October.
"China's stocks will trend up in 2011, but it will be volatile," said Hong, who is based in Beijing. "A continuing global recovery and sustained Chinese growth should support the market." Hong said he favors commodity producers, agriculture and healthcare companies. Both Hong and Zhang declined to give a year-end target for the Shanghai Composite in 2011.
The index jumped 80 percent in 2009 as a 4 trillion yuan ($605 billion) stimulus package and record new lending helped the economy recover from the slump in growth.
"We'll see tighter monetary policies with new loan growth cut more than the market anticipates," Guotai Junan's Zhang said, predicting the government will boost rates twice more and cut the quota for new bank loans from 2010's 7.5 trillion yuan. "Liquidity will be a problem for the market."
Citic Securities Co, Shenyin & Wanguo Securities Co, Haitong Securities Co and Galaxy Securities Co are all forecasting gains of more than 20 percent for the Shanghai Composite.
Among non-Chinese brokerages, JPMorgan is targeting a 20 percent gain, while Citigroup Inc predicts Shanghai's A-share index could climb as high as 4,000. Forecasts for the MSCI China Index range from 81 at Credit Suisse Group AG and 88 at UBS AG to 94.5 at Morgan Stanley, the most bullish prediction, 42 percent above the 66.6 close at the end of 2010.
The Shanghai gauge's decline has driven down valuations for the 913 companies to an average of 18.3 times reported earnings, compared with the historical average of 30.5 times, according to data compiled by Bloomberg.
Bloomberg News