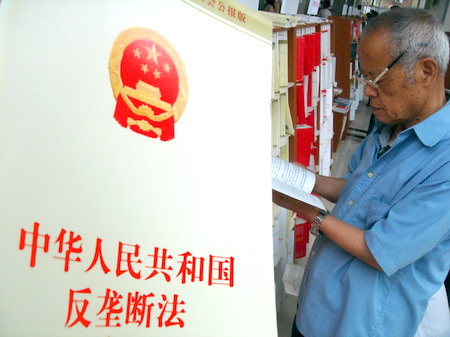 A man reads a book on the Anti-Monopoly Law in a bookstore in Huaibei city, Anhui province. China has released detailed regulations to combat price rigging. [Photo / China Daily]
BEIJING - China has unveiled detailed regulations to tackle price monopolies, which experts said is a further move to enforce the nation's antitrust law and help safeguard market order.
The National Development and Reform Commission (NDRC), China's top economic planning agency, has formulated regulations on price monopolies, which will enter into force on Feb 1.
Illegal acts prohibited by the regulations include price-fixing agreements and excluding or limiting competition through abuse of dominant market share, according to the regulations.
The major purpose of the regulations is to work out detailed rules relating to price monopolies to further implement China's Anti-Monopoly Law, said a source close to the drafting of the regulations.
All operators including companies or industry associations who violate the rules will be penalized with fines of up to 10 percent of their sales in the previous year.
Peter Wang, a partner with the law firm Jones Day in Shanghai, said such detailed regulations are necessary and their introduction will make it easier for businesses to comply with the law and make enforcement more consistent.
"The regulations can provide guidance to businesses because the general prohibitions in the Anti-Monopoly Law are fairly general and could be subject to different interpretations," said Wang.
Related readings:


 Oil giants monopoly blamed in diesel shortage


 China mulls law to cap prices in monopoly industries


 Commerce ministry studies foreign anti-monopoly probes 


 Telecom companies' monopoly must end

The anti-price rigging regulations are likely to start to rein in anti-competition behavior by businesses, especially the most obviously illegal kinds, such as price-fixing and price-related abuses of dominant market position, he said.
"For most companies, these regulations will be welcome because it should make competition more fair and put all market players on a level playing field over the long run," Wang said.
Previously, the government handled enforcement of such cases under the Price Law. For instance, to prevent speculation-based price rises of many products, such as garlic and mung beans last year, the government imposed fines of up to 1 million yuan ($151,000) on hoarding and monopoly activities.
Wang Xiaoguang, a researcher at the Chinese Academy of Governance, said the regulations - as a part of the government's macro-economic management policies in 2011 - will help regulate the market and prevent excessive price rises.
"Price surges of many agricultural products last year were driven by speculation and price collusion," Wang said.
Last year, prices of goods like garlic, mung beans and cotton fluctuated severely, partly due to the rampant speculation and hoarding activities, analysts said.
"The long-term influence of the new regulations is important in helping promote fair market competition," said Wang.