1. Macro policies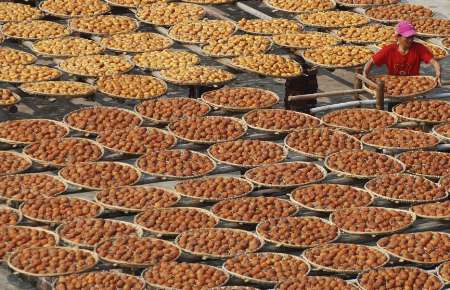 A villager dries persimmons in the sun at a village in Gongcheng county, Guangxi Zhuang autonomous region, October 18, 2009. [Photo / Reuters] 
China will enhance and improve macroeconomic regulation to ensure stable and healthy economic development, according to a statement released on Dec 12 after the annual Central Economic Work Conference.
Next year's macro-regulation should basically be proactive, stable, prudent and flexible.
The focus will be on better handling the relationship between stable and relatively fast economic development, economic restructuring and controlling inflation expectations in an active and stable way, the statement said.
Delegates at the three-day Central Economic Work Conference, one of China's most important economic policy-making events, agreed to increase efforts to keep prices stable next year.
They also agreed to accelerate the strategic transformation of the economic development pattern in order to make it more balanced.
2. GDP growth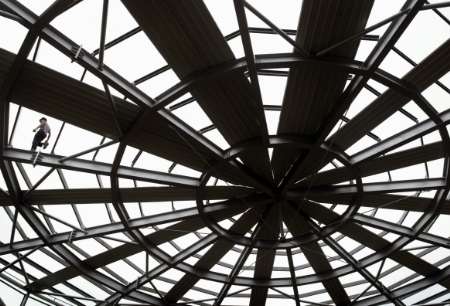 A labourer walks on the frame of a structure under construction in Nanjing, in east China's Jiangsu province in this file photo. [Photo / Reuters]
The Chinese Academy of Social Sciences, a top think tank, said in its annual Blue Book of China's Economy report in early December that the economy may grow by 9.9 percent in 2010 and will retain relatively rapid growth, with the GDP growth rate reaching 10 percent.
A United Nations' report entitled The World Economic Situation and Prospects 2011 predicted China's economy may grow 8.9 percent next year, and continue boosting global economic recovery over the next two years along with other developed countries amid a grim outlook for the global economy. The World Bank in November said that China's economic growth may slow to 8.7 percent next year, and will see further easing in the medium term.
3. Inflation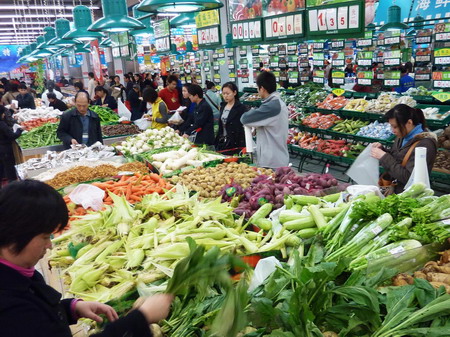 People choosing vegetables at a supermarket in Ningbo, Zhejiang province. China is stepping up efforts to simplify the means of bringing agricultural products to the marketplace to reduce costs and address rising inflation. [Photo / China Daily] 
China's consumer inflation, measured by the Consumer Price Index (CPI), has so far been driven mainly by rising food prices, mostly due to bad weather and natural disasters throughout the year, and to a smaller extent, long-term upward adjustment in domestic food prices. Ample liquidity is also believed to be a major factor behind rising prices.
According to a report released by the World Bank in November, inflation may remain above the 3 percent target for some time as a result of higher food prices. However, it is unlikely to escalate as core inflation remains in check.
The Chinese Academy of Social Sciences predicted inflation will remain moderate with the CPI rising 3.3 percent, while Goldman Sachs has forecast that the inflation rate will increase 4.3 percent in 2011.
4. Real estate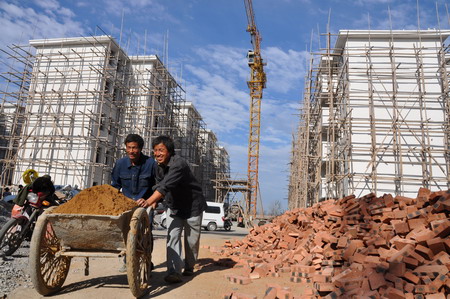 Workers building affordable houses in Huaibei, Anhui province. Facing surging property prices, the government will make greater efforts to increase the supply of low-priced housing next year. [Photo / China Daily] 
Facing surging property prices, policymakers adopted tightening measures in April, which were further strengthened at the end of September, when an upward trend in prices and sales re-emerged. These measures are aimed at stabilizing prices, not bringing down overall property prices.
The government is likely to maintain a tightening bias on the property sector in 2011, continuing with restrictions on demand and credit to developers, and rolling out a pilot program on property tax in a few large cities while more efforts will be made to increase the supply of low-priced housing.
5. The exchange rate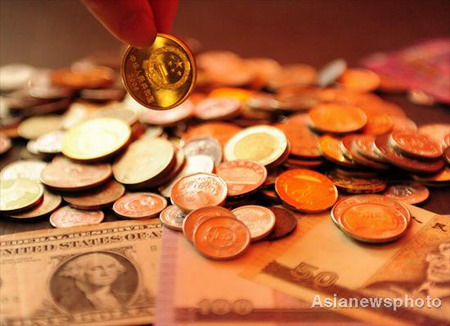 A man checks his notes and coins in Qionghai,Hainan province. [Photo / Asianewsphoto]
The People's Bank of China, the central bank, decided in mid-June to proceed further with the reform of the yuan exchange rate regime. The intention is to increase the currency's flexibility and make it better reflect market supply and demand relations with reference to a basket of currencies.
The yuan has appreciated about 3 percent against the dollar since the June move.
Many analysts expect the yuan to appreciate modestly, but visibly, against the dollar in 2011. Over the medium term, it is expected that the currency will continue its gradual appreciation.
6. The stock market
An investor gestures in front of an electronic screen showing stock information at a brokerage house in Wuhan, Hubei province October 9, 2009.[Photo / Reuters] 
Top researchers from financial institutions said in late November that they are bullish about China's A-share market in 2011.
Xu Weihong, head of the research division of Guodu Securities Co, expected the benchmark Shanghai Composite Index to reach 3500 or even 4000 points some time in 2011.
He said the ample liquidity in the market will drive the performance of listed companies.
Li Feng, head of the research division of Minsheng Securities, predicted the benchmark Shanghai Composite Index will fluctuate mainly between 3500 and 4000 points and may even hit 4500 points. He said bank stocks will perform better next year, which will help the stock market to recover.
For next year's investment opportunities, analysts tip the industries and sectors mentioned in the government's 12th Five-Year Plan (2011-2015), including equipment manufacturing and the new-energy industry.
7. Trade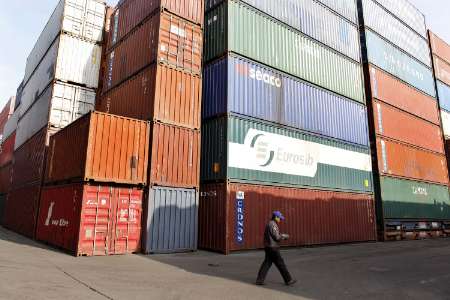 A worker walks past containers at a storage depot in the outskirts of Shanghai March 11, 2009. [Photo / Reuters] 
After falling by 16 percent in 2009, China's exports to all major markets recovered strongly this year, growing by almost 30 percent year-on-year.
Export volume growth peaked in the mid-year, but has since decelerated due to the weakened momentum of external demand.
It is expected that export volume will grow by about 10 percent in 2011 on the assumption of moderate, but continuing, global recovery.
Despite the recent rise in wage costs, Chinese exports seem to have remained competitive with a limited export price increase and gains in market share.
Prices of both imports and processing imports have recovered strongly this year. In 2011, it is expected that the import volume growth will stabilize at about 10 percent.
Commodity import growth will be contained by weaker infrastructure growth and the impact of the property tightening measures.
8. Investment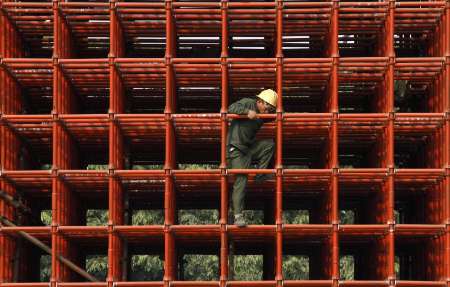 A labourer works on the scaffoldings at a construction site in Haikou, Hainan province, in this file photo taken in 2008. [Photo / Reuters] 
China's investment growth has experienced large swings during the past two years, reflecting the strong impact of both the global crisis and stimulus policies.
Growth of real fixed investment slowed from 26 percent in 2009 to about 9 percent this year and is expected to be stable in 2011.
The composition of fixed investment has shifted away from stimulus-related infrastructure to property and will move toward manufacturing in 2011.
Regional development and industrial upgrading will be the main drivers of investment growth next year.
9. Consumption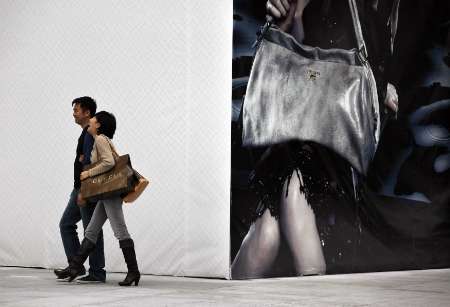 People walk past a poster advertising a luxury fashion brand on a main street in Shanghai October 22, 2009. [Photo / Reuters]
A common investor concern has been that Chinese consumption is weak, and that growth has been led by investment and exports. The reality is that consumption has been growing at an annaul average of 9 percent during the past decade.
It is expected that consumption growth will pick up somewhat in 2011 to 9.8 percent. The following factors are likely to contribute.
First, urban income will continue to benefit from fast wages growth and solid employment growth. The government is expected to raise public sector wages and minimum wages in the private sector.
Also, rural income will be boosted by higher agricultural product prices, rising migrant wages, and an increase in government spending in rural areas.
Second, the government plans to further expand the coverage and payment of urban and rural pensions and healthcare insurance.
This move will support increased spending on healthcare, and help stall the downward trend of the consumption/GDP ratio.
10. The 12th Five-Year Plan (2011-2015)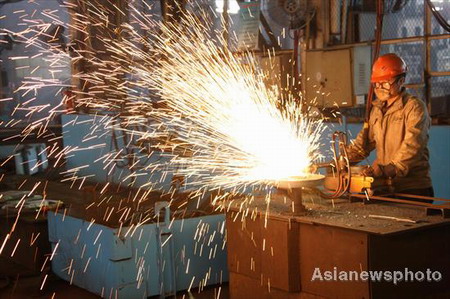 A worker in a steel mill in Huaibei, Anhui province, Nov 15, 2010. [Photo / Asianewsphoto] 
The Chinese Communist Party promulgated its proposal for the 12th Five-Year Plan (2011-2015) in mid October, establishing a framework that will start next year.
The plan continues to emphasize "structural adjustments" in China's economy and its growth model.
"Moving up the value chain" is the key message for the industrial sector. This involves technological upgrading and consolidation in the traditional manufacturing sectors, as well the development of new strategic industries.
Sources: The World Bank, The United Nations, The Chinese Academy of Social Sciences, UBS Securities, Morgan Stanley, Goldman Sachs and Agencies.