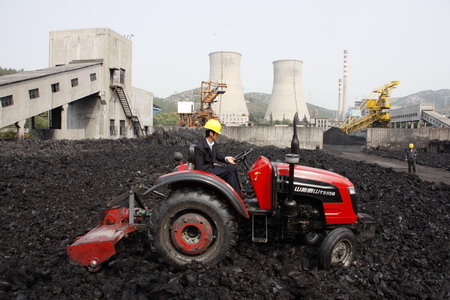 With a price freeze on coal contracts, coal suppliers are reluctant to sign supply contracts with power producers. [Photo / Provided to China Daily] 
BEIJING - Thermal coal supply contracts for 2011 are on track to be met after a surge in contract volume over the past two days, amid fears from power producers on the default rate of contracts as coal spot price is expected to jump.
As of Wednesday, over 90 percent of the target volume set by the government has been realized, according to statistics from the China Coal Transportation & Distribution Association.
The volume of thermal coal contracts surged on Tuesday as the deadline approaches, with 370 million metric tons of coal contracts signed, accounting for 40 percent of the total volume target, according to the China Coal Transportation & Distribution Association.
China increased the amount of thermal coal it will allow to be sold for 2011 contracts to 769 million metric tons, the National Development and Reform Commission (NDRC), the top economic planner, said in early December. Power producers and coal mining companies have 25 days to sign contract supply agreements.
The NDRC also froze contract coal prices for 2011 at this year's rates in efforts to curb inflation, making coal suppliers reluctant to sign contracts with power producers.
The contract price for coal is set at 520 yuan ($77.32) per metric ton, 200 yuan lower than the current spot price.
The gap between spot coal prices and long-term coal contract prices has led to a standoff between China's coal producers and buyers. Analysts expect the price gap may result in 20 billion yuan in losses for coal mining companies, according to China Securities.
Related readings:


 China's net coal imports likely to hit 230m tons in 2011


 Coal trouble in cold weather


 China to increase coal imports from Russia

 Power giants take hit from high cost of coal
The price restriction is also aimed at helping the nation's power producers, which are recording losses after coal prices soared more than 20 percent this year.
Based on past experience, resorting to freezing coal prices was always discounted, since coal producers would circumvent control measures by supplying lower-grade coal, reducing contract supplies or simply not following guidelines, Deutsche Bank wrote in a recent report.
About half of the coal supply for power production is from coal contracts but only 50 percent of the contracts were executed this year.
Meanwhile, the cold weather has already caused coal shortages in some regions. In the coal-rich province of Shaanxi, 14 major power stations reported in mid-December that they only had enough coal to meet another 4.4 days of demand.
China's coal production is expected to reach 3.2 billion metric tons in 2010, an increase of 7.9 percent year-on-year, according to the China National Coal Association.
Coal miners' inventories decreased 30 percent to 40 million metric tons while power producers' stock doubled, at of the end of November, the People's Daily reported.