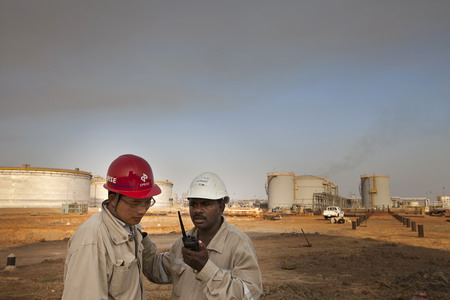 Employees of China Petroleum Engineering & Construction Corp talk at an oil storage site near Melut, Sudan. China's overseas direct investment will grow by 10 percent year-on-year in 2011. [Photo / Bloomberg] 
Government prioritizes surge to combat recent trade frictions
BEIJING - China's outward direct investment (ODI) growth will accelerate, and its volume will equal that of the nation's inward foreign direct investment (FDI) by 2015, said Yi Xiaozhun, vice-minister of commerce, on Thursday.
Yi made the remark at a two-day annual commerce conference, which started on Wednesday.
The comment came at a time when China is prioritizing the expansion of overseas investment in the 12th Five-Year Plan (2011-2015) to fend off trade frictions.
Liu Mingguang, director of the Department of Outward Investment and Economic Cooperation with the Ministry of Commerce, told China Daily on the sidelines of the conference that a "discussion of the directive on outbound investment, which aims to assist Chinese enterprises in investing in the right place and get the right projects overseas is under way. It is expected to be launched in 2011".
At the opening ceremony of the Beijing conference, Chen Deming, the minister of commerce, said the government will strengthen policies and improve services to promote overseas investment during the next five years. The ministry will promote investment in industries such as energy, mining, agriculture, and value-added manufacturing, he said.
While foreign investment worldwide has been in decline since the global financial crisis erupted in 2008, China's ODI has been rising. In 2009, China's ODI grew by 6.5 percent year-on-year to $43.3 billion, and the country became the fifth-largest investor in terms of ODI last year, up from 12th in 2008.
Chen said that China's 2010 ODI in the non-financial sector will "surpass $50 billion", compared with last year's figure of $43.3 billion.
Looking forward to 2011, ODI will grow by "10 percent" from this year, said Huo Jianguo, director of the Chinese Academy of International Trade and Economic Cooperation with the ministry.
Related readings:


 China promises further opportunities for overseas investment


 Green norms for overseas investment soon

China's QDII funds boom faces bumpy road ahead


 Overseas investment helps bankroll recovery
China's inward foreign direct investment has made big strides during the past three decades. In 2010, inward FDI is projected to grow by 11 percent year-on-year to $100 billion.
"China's ODI is at an early stage, but the growth will be striking," said Liu.
Since late 2008, the nation's exports have been a major target of trade protectionism worldwide. Experts said overseas investment could create local jobs and promote sales abroad, and it would also be a good way to alleviate the pressure from the growing number of trade-remedy cases against Chinese products.
"China has been the largest victim of trade protectionism by the United States, and it is hard to foresee any instant change, but more investment from China into the US could probably relieve the Chinese pains," said Zhang Shaogang, counselor of the Economic and Commercial Office of the Chinese embassy in the US.
The embassy is working on investment guidelines tailored to the needs of Chinese companies, which will be published next year.
According to Jin Yonghui, director-general of the Department of Commerce of Zhejiang province, many local companies are eyeing investment opportunities overseas. "The momentum of outbound investment is continuing, with many projects involving sectors such as textiles, consumer goods and mechanical manufacturing under discussion," he said.
Zhejiang leads the overseas investment wave nationally, with an overseas investment volume of $3.08 billion by 466 companies during the January-October period. The figure increased by a staggering 325 percent year-on-year.