Editor's Note:
2010 marks the last year of China's 11th Five-Year Plan (2006-2010), and the central government has implemented plenty of measures trying to curb inflation, property price surge as well as diesel shortage during the year. To some extent, 2010 also set the tone for the country's next five-year plan, including monetary policies, industry investments, and high-technology development.
Following are the 10 most influential business policies of the year that may affect your business in China and even your daily life.
[Click for more "top 10" topics]
1. Six RRR hikes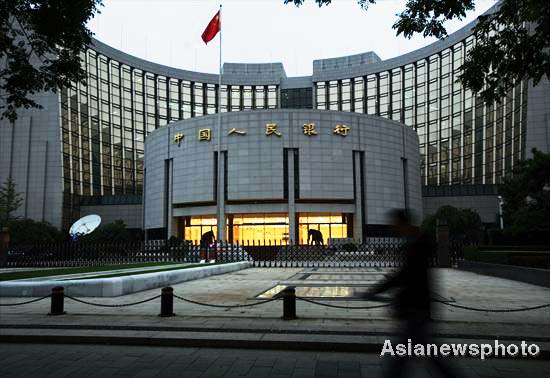 A man walks in front of the headquarters of China's central bank, the People's Bank of China, in Beijing, Oct 20. [Photo/Asianewsphoto]
The People's Bank of China raised the reserve requirements ratio (RRR) for banks six times this year. Each time the RRR was hiked by 50 basis points, from 15.5 percent at the end of 2009 to a record high of 18.5 percent in December 2010 to mop up excessive liquidity.
On Dec 10, the central bank announced the third hike of banks' RRR in a month to curb inflation, which had accelerated during the past two months. Before that, Chinese mainland stock markets traded lower for a week as investors speculated about an interest rate increase.
Analysts said raising the RRR in preference to interest rates indicated government caution over concerns that a tightening monetary policy could hamper economic growth.
Related readings:


 Reserve ratio may rise to record high

 China still has room for RRR rises

 China raises banks' reserve ratios again
2. Efforts to cool down property market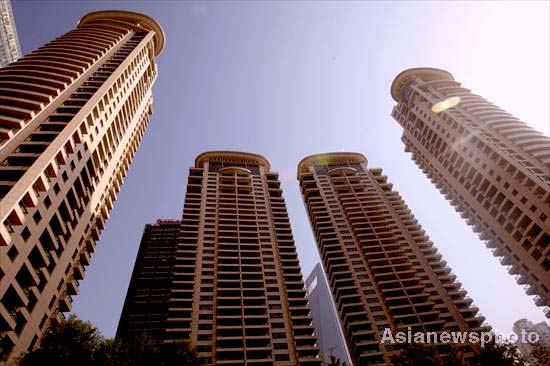 A snapshot of four residential buildings in Shanghai on Oct 24, 2009. [Photo/Asianewsphoto]
Central government has been working to restrict the number of apartments a family can buy in 2010. Families that apply for loans for their second home must pay more than 50 percent of the price as a down payment. Also, prospective buyers whose first house is more than 90 square meters must pay at least 30 percent of the total value before arranging a mortgage.
These rigorous real estate policies, allied to rumors that Beijing and Shanghai will be among the first cities to undertake property tax trials, slowed price growth in the housing market.
November home prices in 70 major cities climbed 7.7 percent from a year earlier, slower than the 8.6 percent increase in October and the 9.1 percent growth in September, the National Bureau of Statistics said on Dec 10.
Related readings:

 New Progress in China's Protection of Intellectual Property Rights (White Paper)

 Property developers, energy producers lead strong rally in stocks

 Property price rise rate to slow in 2011
3. Shift to 'prudent' monetary policy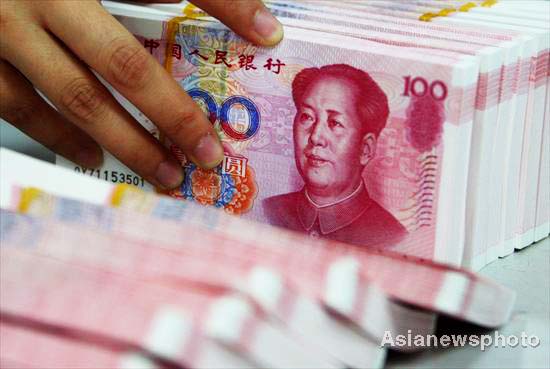 A staff member counts RMB at the Industrial and Commercial Bank of China in Huaibei, East China's Anhui province, Nov 29, 2010. [Photo/Asianewsphoto]
At 2010 China's Central Economic Work Conference, policymakers endorsed the replacement of a "relatively loose" monetary policy with a "prudent" one.
At the end of November, China's M2 measure of broad money supply, which covers cash in circulation and all deposits, had increased 19.5 percent year-on-year to 71.03 trillion yuan ($10.76 trillion). New data from the National Bureau of Statistics showed that the inflation rate in China reached 5.1 percent in November, the highest in 28 months, prompting the government to make liquidity tapping a priority.
To reshape a consumer-led economic growth pattern in the coming 12th Five-Year Plan period (2011-2015), the authorities considered policy guidelines during the conference including improving macro-control, promoting modern agriculture, and reforming the income distribution mechanism.
Related readings:

 Mainland's monetary policy to remain mild

 Normalize monetary policy

 End of loose monetary policy
4. Equal tax treatment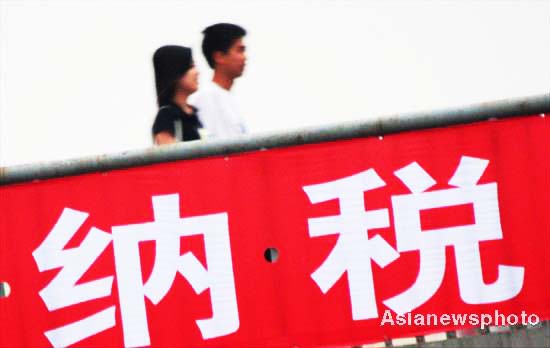 A couple passes by a tax promotion banner in Beijing, May 11, 2009. [Photo/Asianewsphoto]
China started to levy two taxes on foreign companies from Dec 1, marking the beginnings of a standard national tax regime for both Chinese and overseas enterprises.
China will charge foreign firms operating in the country two additional taxes (a construction tax and an education surcharge), according to a State Council announcement in late November.
The measure will force a rise of up to 10 percent in local operating expenditure for foreign enterprises. However, analysts said the effect on foreign investors will be limited.
Data from the Ministry of Commerce showed that between January and October, China's foreign direct investment (FDI) grew by 16 percent from a year earlier, and October was also the 15th consecutive month that FDI had registered positive growth.
Related readings:

 Foreign, Chinese firms' tax burdens unified

 China to levy tax on individuals' restricted-share transfers

 China to speed up tax reform
5. Car tax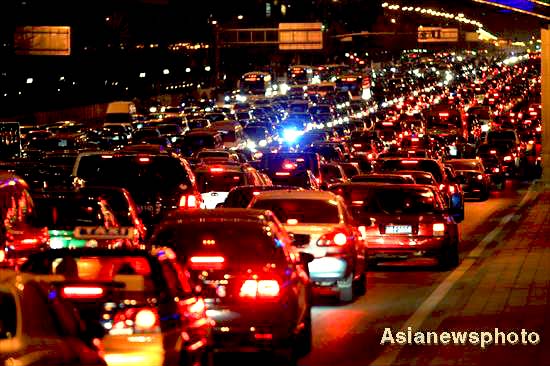 Cars jam up near Jianguomen, Beijing. [Photo/Asianewsphoto]
Tax preferences on car purchases of vehicles with smaller engine capacities will expire from 2011, said the National Development and Reform Commission, China's main economic planning body in early December.
The end of tax reductions and subsidies next year boosted car sales in November. According to data from the China Passenger Car Association, more than 1.28 million cars were sold in November, a 27 percent rise from a year earlier and 10.5 percent higher than October. Experts said domestic market sales form 2010 will pass 17.5 million units.
In Beijing, automobile ownership had reached 4.67 million by late November, and is expanding by more than 3,000 vehicles a day, up 200 percent year-on-year, and imposing huge pressure on the city's transportation sector.
Related readings:

 Will the new car tax law be effective in saving energy and cutting emissions?

 Draft vehicle tax bill gets comments from public

 Car tax law part of drive to promote clean energy
6. High-speed rail on the fast track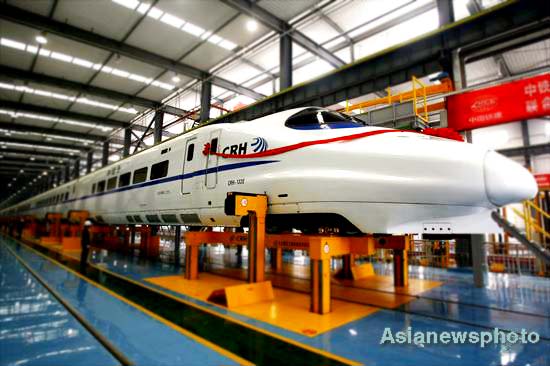 A 400-meter-long CRH2E high-speed train on the assembly line, Oct 15. [Photo/Asianewsphoto]
China will invest 3 trillion to 4 trillion yuan ($451-601 billion) in the high-speed railway industry as part of the 12th Five-Year Plan (2011-2015), the China Securities Journal reported.
During the seventh World Congress on High-Speed Rail, China signed eight memoranda and agreements with eight counties to work together on railway construction, which led to a gain for stocks of rail-related companies.
As the Beijing-Shanghai high-speed railway, the longest and fastest in China will become operational in 2011, thousands of kilometers of high-speed track are under construction now.
The Minister of Railways Liu Zhijun said China leads the world with a high-speed rail network of 7,531 km. That is set to expand to 13,000 km by 2012, and 16,000 km by 2020.
Related readings:

 Race is on for high-speed rail

 China's high-speed rail network to take shape in 2012

 China links world with its high-speed rail technology
7. The clean-energy drive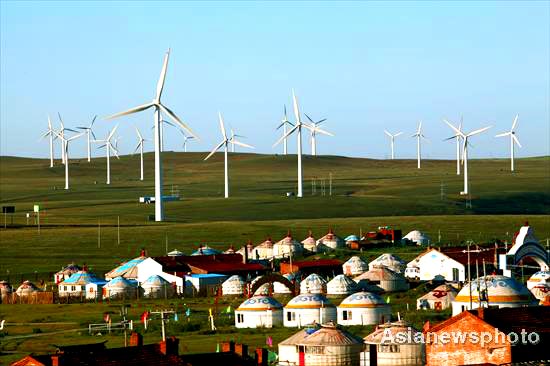 Wind-power generators in the Inner Mongolia autonomous region. [Photo/Asianewsphoto]
Clean energies, such as nuclear, wind, and solar photovoltaic power, have enjoyed a favorable policy environment during 2010 as China aims to increase its proportion of clean-energy production to about 15 percent during the 12th Five-Year Plan period (2011-2015).
According to data from the National Energy Administration, 62 percent of growing investments in the past three quarters were in the clean-energy industry. China's installed capacity of nuclear power is more than 10 million kilowatts, and will rise to nearly 40 kilowatts by 2015.
The bureau predicted that China's total installed wind power capacity will reach 35 million kilowatts in 2010, while solar energy will reach 600,000 kilowatts, double the wattage of last year.
Related readings:

 Goldwind to make mark in US with wind farm energy supply deal

 China to further promote green energy

 Chinese renewable energy firms encouraged to invest in US
8. City clusters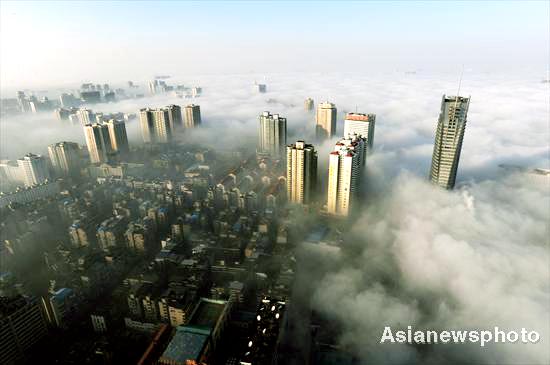 Buildings are shrouded in fog in Wuhan, capital of Central China's Hubei province, Dec 3, 2009. [Photo/Asianewsphoto]
The government promised to create six city clusters to promote the development of Central China, according to an August directive from the National Development and Reform Commission.
The six city clusters include those at Wuhan in Hubei province, Changsha-Zhuzhou-Xiangtan in Hunan province, and Poyang Lake in Jiangxi province.
City clusters are built to provide more concentrated industries and more equitable source distribution, to balance development among China's different regions.
According to the directive, the local governments of six provinces in Central China should finish the plan by the end of this year.
Related readings:

 High-end industrial clusters to take shape in Shandong

 Liaoning's equipment manufacturers turn to clusters for expansion

 Tianjin emerges from the shadows
9. Culture industry to become an economic pillar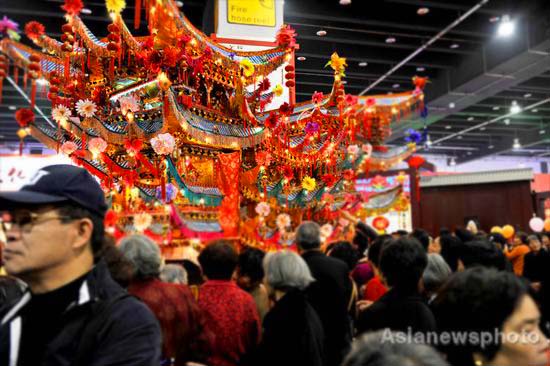 People observe a 400-year "jewelry dragon" at a culture expo in Yiwu, Zhejiang province, April 23, 2010.[Photo/Asianewsphoto]
China's culture industry has grown at a rate of more than 15 percent during the past five years.
That fact prompted a government proposal to "promote the culture industry to one of the pillar industries of the economy" at the Economic Work Conference earlier this month.
As China further embraces reform in this field, 2010 will be seen as the turning point in the development of the culture industry.
According to a report from the Chinese Academy of Social Sciences, China's culture industry was worth 800 billion yuan ($120 billion) in 2009. Digitalization of content, and cooperation with the private sector are considered the next steps in the development.
Related readings:

 Tea culture comes to live at Wuyutai

 Profits in culture industry to exceed 4% of Mangshi's GDP
 50. Corporate culture takes a hit
10. Electric cars on full charge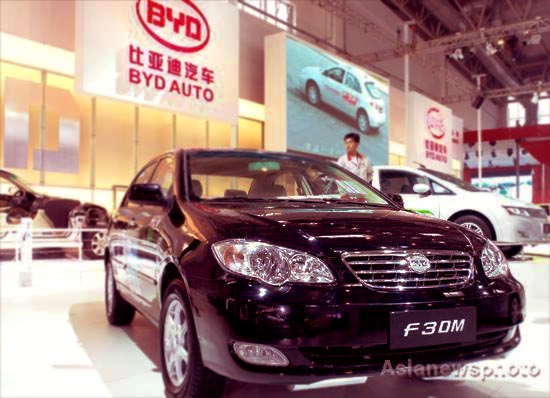 BYD's F3DM electric car on display at an auto show in Beijing on April 20, 2008. [Photo/Asianewsphoto]
China's top economic regulators and four related ministries launched a subsidies statement about individual purchases of electric cars in June.
The policy targets plug-in hybrid electric vehicles and vehicles powered exclusively by electricity, with a 50,000 yuan subsidy available in five cities of Shanghai, Shenzhen, Changchun, Hangzhou and Hefei.
According to the Shanghai Electric Cars Promotion Office, there will be 100,000 electric cars in the city by 2012, worth 30 billion yuan to the industry. Around 60 percent of these electric cars will be owned by individuals.
Related readings:

 Fisker Automotive to sell electric cars in China

 Challenges of charging ahead in electric cars

 Plan to spark demand for electric cars