Becoming a civil servant - known as a red-collar worker in China - is the ambition of many white-collar workers in the city, according to a new survey.
The study from Zhaopin.com that was released on Dec 19 shows that more than 70 percent of office workers in the private sector would prefer government jobs.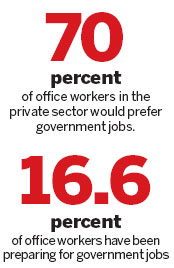 The survey shows 16.6 percent of employees have already put irons in the fire to try to become red-collar workers and 57.2 percent would be prepared to quit their jobs if they had the chance to be a civil servant.
The survey was carried out among more than 5,000 employees of which about 1,000 worked in Beijing.
Local government has been interviewing potential hire recently. It plans to recruit more than 1,000 civil servants for 740 different types of job in Beijing. Some 27,046 people sat the exam in a bid to be selected, a recruitment rate of 3.78 percent. The year before, there was a better chance of landing a civil service job and the recruitment rate was 5.56 percent.
Most people sitting the exam were already working in the private sector.
"It is a tendency to increase the recruitment of people with working experience," said Song Guilun, secretary of the Beijing social work committee.
The move will be music to the ears of white-collar workers. In the poll, 54.2 percent of office workers said a red-collar job would be better than the one they have.
"Stability is the most important advantage," said a woman surnamed Wang, who was recently interviewed to join the civil service after working for three years in the private sector.
"My parents also think a private company cannot offer enough security and things such as a pension."
Related readings:


 1.4 m take national civil servant exam


 Civil service remains attractive to job seekers


 China moves to break civil servants' 'iron bowl'


 Beijing woos grass-roots govt workers
Some 38.7 percent of respondents said security was a major factor.
Social status is another advantage, Wang said.
"Compared with working at a small privately-owned company, people give you more respect if you are a civil servant," she said.
However, some civil servants tried to cool the white-collar workers' passion.
"Civil servants are not as glamorous as people think and if they know civil servants, they will not choose this job," said Yang Gang, deputy manager of the college graduates employment department at the Beijing Bureau of Human Resources and Social Security.
Yang said few civil servants really have a high social status and the income is not competitive because recruits only make around 2,000 yuan a month.
"I do not care about the low income because civil servants have other benefits," said a woman who plans to take the exam next year.
She said she has already quit her job so she can start to revise for the test.