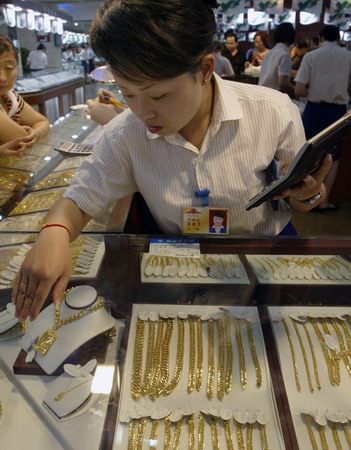 China's investment-oriented consumption of gold could reach 150 tons in China this year, up from 80.5 tons during the same period last year. [Photot / China Daily] 
BEIJING - China's investment-driven consumption of gold will almost double this year to 45 billion yuan ($6.7 billion), due to growing concern over inflation and restrictions on property investment, the World Gold Council (WGC) said on Thursday.
"We expect investment-oriented consumption of gold could reach 150 tons in China this year, up from 80.5 tons during the same period last year," Albert Cheng, managing director of WGC (Far East), told China Daily.
"Double-digit growth could still be achieved next year, due to people's expectations of rising inflation and a weakening dollar. Meanwhile, the central bank is also expected to increase its holdings of gold to diversify its asset portfolio," Cheng added.
China's consumer price index, the major gauge of inflation, jumped to a 28-month high of 5.1 percent in November, prompting the country's leaders to say that fighting inflation is now a top priority for the government.
Meanwhile, due to the government's rigorous real estate policies and the flat performance of China's capital market, a growing number of people see gold as a hedge against inflation.
Morgan Stanley said in a recent report that the average gold price will stand at $1,315 per ounce in 2011, up from $1,203 per ounce this year.
Related readings:


 Gold investment demand may reach 150 tonnes


 Investors see gold as inflation hedge


 Gold, jewelery popular in China


 Gold firms lead rally in stocks
According to BOCI International (China) Limited, gold could hit $1,195 in 2011 and $1,205 in 2012.
The positive forecast is partly due to the adoption of a second round of quantitative easing by the United States in November. Other factors pushing prices up include tension on the Korean Peninsula and central bank demand, Morgan Stanley said.
According to the WGC's latest quarterly report, global gold demand is strengthening despite rising prices. Gold rose 28 percent to its highest-ever average price for a quarter at $1,226.75 an ounce while gold demand jumped 12 percent on a year-on-year basis to 921.8 tons during the third quarter.
Net retail investment in China reached 45 tons in the third quarter, breaking the previous record of 40 tons set in the first quarter of 2010.
"As gold consumption accounts for a small proportion of people's savings, we believe the market potential remains huge," said Cheng.
The council, together with the country's largest lender the Industrial and Commercial Bank of China, recently launched a gold accumulation product, targeting the country's mass consumer market.