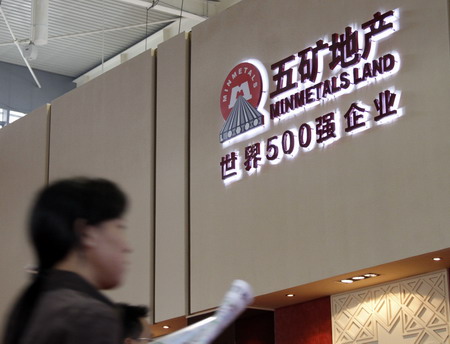 A Minmetals Land booth at a property show in Nanjing, Jiangsu province. China Minmetals Corp, China's largest steel and metals trader, has established China Minmetals Corporation Limited to accelerate the pace of its corporate restructuring. [Photo / Provided to China Daily]
Largest steel and metals trader prepares for possible listing
BEIJING - China Minmetals Corp, the nation's largest steel and metals trader, announced on Thursday that it will inject its main assets into a new umbrella company called China Minmetals Corporation Limited (CMCL) to accelerate the pace of its corporate restructuring.
China Minmetals Corp, will hold a 96.5 percent stake in the new project, while China National Metal Products Co will own 1 percent. The remainder will be shared by other investors, according to a statement by the company.
The group will inject its ferrous metals, non-ferrous metals, logistics, real estate, and science-tech divisions into CMCL.
"CMCL will serve as a new platform to expand Minmetals' overseas and domestic assets," said Zhou Zhongshu, president of Minmetals.
The State-owned Assets Supervision and Administration Commission (SASAC), which is both a regulator of and shareholder in China's largest State companies, earlier said it encouraged State-owned enterprises (SOEs) to accelerate the pace of corporate restructuring and market listings.
"The establishment of CMCL could be regarded as Minmetals' first move in restructuring and as preparation for listing," said a company insider who declined to be named.
The Beijing-based company produces and trades metals and minerals, including steel products, copper, aluminum, zinc and nickel. It is also engaged in finance, real estate and logistics.
"The establishment of the new company marks a step forward in the company's restructuring," said Liu Minda, an analyst at Huatai Securities.
Related readings:


 SASAC to step up listing of central State-owned firms


 Crucial time ahead for SOE shake-up


 Minmetals sees improved 2010 results


 Minmetals plans more overseas M&As
"It's difficult to evaluate the effect of the move until the detailed reform plan maps out," he said. Liu added that many barriers need to be removed to achieve the restructuring target, given the size of the conglomerate that now has eight listed firms.
Zhou earlier said he expected a better performance this year, with increased profit, propelled by a rally in metal prices despite recent pullbacks, and good returns from the company's overseas mining resources.
Metal prices have been ramped up this year on the back of growing industry demand, driven by China's strong economic growth.
Minmetals' assets grew 136 percent in 2009 through the acquisition of several domestic and foreign mining operations, and despite a decline in revenue due to lower commodity prices resulting from the global financial crisis.
The company paid $1.39 billion for the zinc producer OZ Minerals in June 2009 to expand its presence in Australia. It is also eyeing assets in South Africa and may make further acquisitions in Australia, according to company insiders.
Zhou said earlier the company's overseas subsidiary Minerals and Metals Group (MMG) will serve as an international investment platform, and is planning more overseas mergers and acquisitions to bolster the company's raw-material supplies.
Minmetals also holds a majority stake in Hunan Nonferrous Metals Holding Group after increasing its stake in the Hong Kong-listed miner to 51 percent.
It also acquired two SOEs, Changsha Research Institute of Mining & Metallurgy (CRIMM) and Luzhong Metallurgy & Mining Group. Meanwhile, Minmetals took over five subsidiaries of the bankrupt FerroChina Ltd in September 2009.