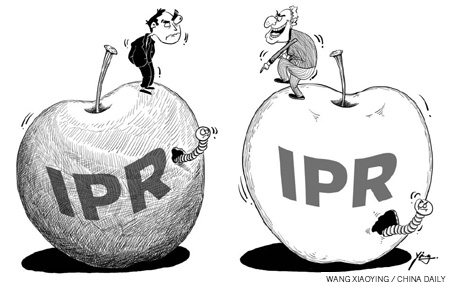 The protection of intellectual property rights (IPR) has been on the complaints list of foreign companies investing in China for a long time. But their recent criticism of the investment environment and fake products in China has prompted the Chinese government to take measures to further curb IPR infringements.
Technology innovation is an engine for industrial development. An IPR holder can recoup its research cost through the sale of its IPR products, and with legal protection will have exclusive possession of the IPR product market.
Over the years, China has made great efforts and achieved considerable progress in improving the legal environment for IPR protection.
An example of China's progress is the Patent Law of 1985, which has been amended three times in line with international IPR rules. The amendments have made the requirements for patent applications stricter, granted patents better protection and increased penalties for patent violations.
According to the law, companies and people can be penalized for displaying fake products in shop windows or trade shows. This to a large extent has alleviated the concerns of foreigners who exhibit their patented products in China.
However, China's progress on IPR does not necessarily mean it has managed the IPR legal environment well. The government's recent decision to implement a six-month IPR protection action through cooperation among several ministries shows China's political will to solve the problem.
But at the same time, it also shows the relative inefficiency of the present legal framework.
Though the Chinese government's ad hoc affirmative actions can address the current concerns of foreign patent holders, IPR infringements can only be properly handled if the legal framework is well developed.
While the well-defined legislation and enforcement prohibits illegal actions, public knowledge of IPR protection decides whether the legal thresholds will be crossed or not. When China is singled out as a country where IPR violations are prevalent, it is obvious that China also suffers when the foreign competitors take advantage of its people's weak knowledge of IPR protection.
Some Chinese companies have been sued for selling their well-known trademark products abroad because foreign speculators or competitors had already registered their trademarks. If foreign companies and individuals succeed in their attempts to get patents on the genes of some foodstuffs, they can prevent others from researching and planting Chinese beans, for example.
Needless to say, the efforts in fostering the sense of IPR protection among Chinese people will help them respect foreign IPR and protect their own rights as well.
The IPR issue is connected with the economic development stage of a country and the purchasing power of its consumers.
Related readings:


 China to beef up support for major cultural enterprises


 IPR Protection in China


 WIPO head recognizes China's IPR protection progress


 China pledges stronger IPR protection
Since China is at a development stage where its Engel coefficient is high, price plays the decisive role in Chinese consumers' buying habits, especially the less privileged. This means a product that is a lot cheaper than the original can have a profitable market in China and explains the reason why even harsh enforcement measures have not stopped IPR violations in the country. That is why it is important for companies to reconsider their pricing or marketing strategy.
IPR infringements are not unique to China; even developed countries suffered this experience during their economic development. In fact, some developed countries still face IPR problems.
When China launches its new development strategy of indigenous innovation it will indicate a shift from fast-paced and quantity-oriented development to a higher stage of quality orientation and replace its technology-for-market approach with an independent innovation policy.
When foreign investors complain about the end of the super-national treatment period for them in China, they do not count the opportunities that the country's technology-dominated policy can create for them in low-carbon and high-tech fields and the accompanying measures that will result in a better legal environment for innovation and IPR protection.
Now that China is preparing to change its economic structure, it needs to accommodate the complaints as well as the confidence of foreign investors that choose to stay in the country.
The author is director of the policy review division of Beijing WTO Affairs Center.