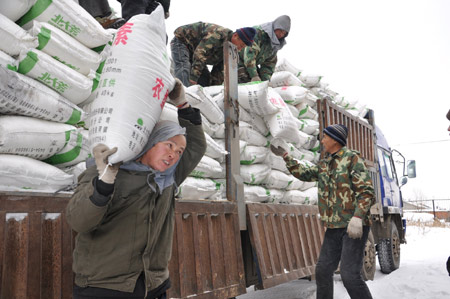 Workers from Wudalianchi farm transporting fertilizer in Heihe, Heilongjiang province. China will extend the high-season portion of its export duties next year.

[Photo/

China Daily

]
BEIJING - China, which started a 110 percent tariff on some fertilizer exports on Wednesday, will extend the high-season portion of its export duties next year to control food prices and secure domestic fertilizer supplies, said an official from the China Chemical Mining Association (CCMA).
The Chinese government imposed a 35 percent temporary tax, and a 75 percent special tax, on the export of some fertilizer products until Dec 30, the Ministry of Finance (MOF) said in a statement posted on its website Tuesday.
The fertilizers affected by the new tariffs include urea and diammonium phosphate.
Yuan Junhong, secretary-general of the CCMA, said it will extend the 110 percent export tariff until June next year, to ensure domestic supplies and help control the rising price of domestic agricultural products.
The levy will also be charged on exports of urea until June 30, 2011.
However, export duty will be lowered to 7 percent during the low season between July 1 and Oct 31, 2011, before rising to 110 percent for November, according to a report released by China Investment Consulting Corp (CICC) on Nov 25.
Related readings:


 China hikes fertilizer tariff to stem exports


 Russia, Japan, China ink deal on fertilizer plant


 China watch developments in currency, fertilizer


 Council of Agriculture defends fertilizer price hikes as reasonable
The duty may be levied on diammonium phosphate exports from Dec 1 to May 31. It will then be lowered to 7 percent from June 1 to Sept 30. The 110 percent duty will then be reinstated for November and December 2011, the report said.
The tariff hike aims to curb fertilizer exports, ensure domestic fertilizer supplies for the coming spring, and combat rising food prices, said the financial ministry.
Analysts said the tariff hike may affect rising fertilizer prices in the global market, and it would have a negative affect on domestic producers such as Hangfeng Evergreen Inc, whose sales are exclusively within China.
Domestic fertilizer producers have recorded a high proportion of exports this year since domestic demand is weak due to nature disasters including draught and floods, said Chang Yizhi, an analyst from CICC.
"The tariff hikes will force some fertilizer companies to turn to the domestic market, and enhance their competitiveness," he said.
"Rising costs of raw materials such as natural gas and coal will also squeeze these companies' profits, putting them under pressure."
But the CCMA's Yuan said the industry suffers from overproduction, and the tariff hike will simply accelerate the pace of removing obsolete capacity.