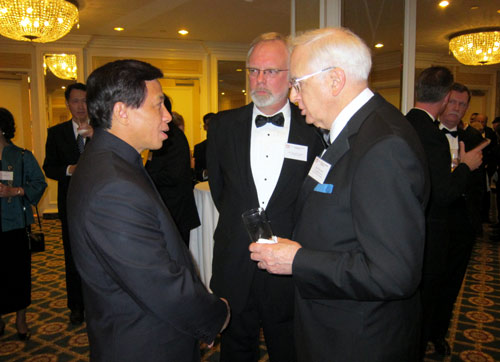 Ambassador Zhang Yesui talks with J. Stapleton Roy, former US ambassador to China(right) and David Shear, deputy assistant secretary of state, before the annual conference of US-China Policy Foundation last Monday in Washington. [Photo by Larry Lee/chinadaily.com.cn]
A speech by Ambassador Zhang Yesui at the Annual Gala Dinner hosted by The US-China Policy Foundation on November 15, 2010
Dr. Chi Wang, Ambassador James Sasser,
Ambassador Sasser, thank you very much for your kind introduction. It is a great honour and privilege to attend the annual Gala Dinner of the US-China Policy Foundation.
I wish to start by congratulating the US-China Policy Foundation on its 15th anniversary. Over the years, under the leadership of Dr. Wang and Ambassador Sasser, and with the strong support from all the board members, the Foundation has been actively committed to promoting mutual understanding and cooperation between China and the United States. It has organized many Congressional Staffers' visits to China and has been working hard to help American people better understand China-US relations through many events including hosting seminars and publishing reports. I wish to express my sincere appreciation to the Foundation for the unique contribution it has made to China-US relations.
In April last year, when President Hu Jintao and President Obama met for the first time in London, they agreed to work together to build a positive, cooperative and comprehensive China-US relationship for the 21st century.
On Thursday last week, the two presidents met again during the G20 Summit in Seoul, which is their 7th meeting within two years. They agreed that China-US relations have significant importance to both countries and the world and that the two sides should work together to further promote the relations.
Currently, the China-US relations are moving forward steadily. Bilateral economic and trade relations continue to expand and have reached the level as before the international financial crisis. In the first ten months of this year, China-US bilateral trade reached 311 billion US dollars with an increase of 29.8%, and US exports to China increased by 31.8%.
For the past few months, the two sides have stepped up high-level dialogues and consultations. These intensive and in-depth communications have played a special role in building mutual understanding, expanding common ground and deepening cooperation.
China and the US have also maintained close communication and cooperation on major international and regional issues.
As we move ahead, it is important to stick to the right direction of China-US relations and properly address our differences.
Strategic mutual trust has to be enhanced, as it determines whether we can view each other in the right perspective and work with each other more effectively.
China and the United States have different history, cultural tradition, social and political system as well as level of economic development. It is only natural that we see things differently and do not always agree on some issues. The key is to respect and treat each other as equals, especially to respect each other's core interests and major concerns, and refrain from taking actions that undermine such core interests. This is the very foundation for strategic mutual trust.
To foster strategic mutual trust requires a better, more comprehensive and objective perception of each other's strategic intentions.
China is a developing country whose per capita GDP is less than 10% of the per capital GDP in the US and ranks behind the 100th place in the world. So the No. 1 priority for the Chinese government is to grow the economy, ensure people's well-being and deliver higher living standards for its 1.3 billion people. It must and will concentrate on development.
The path of peaceful development is a sure choice of China and has become a state policy. China's development may affect others, but it is not intended to threaten others. It will not undermine anyone's interests either. As we see it, a more developed China brings not only more tangible results for the Chinese people, but also more important opportunities for other countries.
In this connection, I want to draw your attention to the need to interpret media reports in China with an objective light. As one of the changes that reform and opening up have brought to China, more and more people in China start to comment and discuss China's foreign policies. You may find all kinds of views and comments, including those posted on blogs and other sites on the internet. But certain views and comments should not be regarded as the policy and strategy of the Chinese government.
It is therefore of vital importance for both countries to increase and improve dialogue and communications. Strategic trust can only be built with increased mutual understanding of each other's true strategic intentions and with less misperceptions.
The issue of trade imbalances has to be understood within the right context and be addressed properly.
According to many experts, the trade imbalances between our two countries are very much overestimated. While China has a surplus in its trade of goods, it has a deficit in the trade of services with the US. But this is not reflected in the statistics.
The joint research report released by China's Ministry of Commerce and the US Department of Commerce and the Office of the USTR in March 2010 also concludes that because such factors as entrepot trade are not taken into account, the US deficit in its trade in goods is overvalued. The official figure for 2006 should be cut by 26%. By this account, the real term deficit of US trade in goods with China for 2009 should be 60 billion US dollars less than the officially announced figure.
In addition, although China has the surplus, the US takes the benefit. In 2009, over 80% of China's trade surplus with the US came from processing trade. Chinese companies only got a small amount of processing fees. For example, a China-made ipod sells at 299 US dollars. Chinese workers get only 4 US dollars, and 160 US dollars goes to the US designers, distributors and retailers.
The root cause of the trade imbalances is the structural differences in trade and investment, rather than the RMB exchange rate. It is precisely the result of international division of labor and industrial relocation in the era of globalization. It is true China has a surplus in trade with the US and Europe, but it runs a deficit in trade with Japan, Republic of Korea and ASEAN countries. The majority of China's export to the US are labor-intensive, low value-added consumer goods. Many of them are no longer produced in the US. Even if the US does not import them from China, it will have to buy from other countries. Appreciation of the RMB will not solve the issue of trade imbalance for the US, nor will it noticeably reduce the US unemployment rate. From 2005 to 2008, the RMB appreciated by 21.1% against US dollar, but the US trade deficit continued to grow during the same period. This proves that trade flow is determined mostly by market supply and demand, not by exchange rate.
With that being said, I want to emphasize that China stands for a comprehensive approach to ease the trade imbalances between China and the US. In my view, it is of vital importance to cooperate in the following three areas:
First, to continue to support each other's economic restructuring. China is now formulating the 12th Five-Year Plan, which lays emphasis on continued effort to expand domestic demand, transform the mode of economic development and embark on the path of balanced development. The size of China's domestic market is expected to surpass 2 trillion US dollars this year, far more than China's total export. By 2015, China-US trade may exceed US$ 500 billion. In recent years, China's domestic consumption has been growing at an annual rate of 17% to 18%. A growing domestic consumers market in China will be conducive to expanding US export to China and put bilateral trade on a more balanced track. At the same time, the US needs to change its high spending, low saving mode of growth. It is also very important to strengthen cooperation in such areas as clean energy, energy conservation, environmental protection, infrastructure and modern services industry.
Second, to increase US export of hi-tech products to China. The US's export control policy against China has forced many Chinese companies away from the US and to buy from others. China's hi-tech import increased rapidly in recent years, but US share dropped from 18.3% in 2001 to 7.5% in 2009. This is not commensurate with the standing of US as the leading nation in science and technology. US export to China will be greatly enhanced if China's market economy status is recognized and restrictions on high-tech export to China are eased.
Third, to encourage Chinese businesses to invest in the US. Currently, many Chinese companies face obstacles and uncertainties when making investment in the US. Improvement in this regard will encourage more Chinese companies to invest in the United States, which will be conducive to job creation and economic growth in this country.
To conclude, I want to underscore that our common interests far outweigh our differences. Dialogue and cooperation remain the mainstream of bilateral relations. I have full confidence in the future of China-US relations. This is because in today's world with deepening globalization and rising global challenges, the converging interests between our two countries are expanding, rather than diminishing. Our common responsibilities in maintaining peace and stability are rising, rather than declining.
In the coming months, there will be a host of high-level exchanges between China and the US. President Hu will pay a state visit to the United States early next year at the invitation of President Obama. Next month, the 21st JCCT meeting, the 2nd China-US High-Level Political Party Leaders Dialogue and the 11th Defense Affairs Consultation between the two Defense Ministries will be held in the United States. Secretary Gates is scheduled to visit China early next year. These are all important opportunities for our two sides to enhance mutually beneficial cooperation.
As we face new opportunities to further elevate China-US relations, contributions from the US-China Policy Foundation will be even more necessary. I look forward to continuing to work with all of you to promote this very important bilateral relationship.
Thank you all very much.