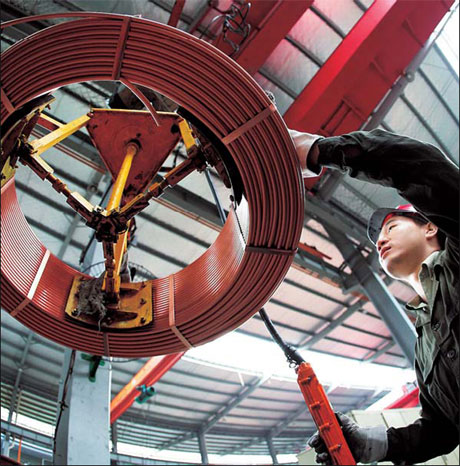 A worker operates machinery at a copper components factory in Zhejiang province. [Photo/China Daily] 
Alternative power will result in the demand rising during next 5 years
BEIJING - New-energy-related industries will be the main contributor to growth in copper consumption during the next five years, according to the International Copper Association.
Meanwhile, low-carbon-related businesses, including solar and wind power generation equipment as well as electric vehicles and batteries, will contribute at least 20 percent of that increase, Victor Zhou, the association's China and Southeast Asia president, said at the International Metal Solar Industry Alliance conference in Beijing.
An electrified society will hugely boost demand for copper, according to Zhou.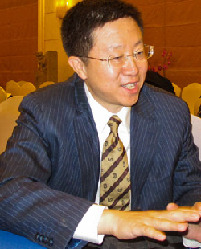 Victor Zhou 
Use of copper in wind and solar power equipment could be four-to-six times higher than that in coal-fired projects, he added.
But cables, which consume more than one million tons of copper, will remain the largest contributor to consumption.
The use of refined copper is projected to grow by 11.5 percent to 6.8 million tons this year, according to the latest report by Beijing Antaike Information Development Co.
Output of the refined metal by the world's largest producer will probably grow 10 percent to 4.55 million tons this year, resulting in a deficit of 2.25 million tons, according to Antaike.
The widespread use of the metal in manufacturing and construction has made it a vital import for China as the country continues to undertake a major phase in industrialization.
The price of copper ore has shot up to a record high. The benchmark copper contract on the London Metal Exchange rose by 2.5 percent to a record price of $8,966 per ton on Nov 11, beating the $8,940 figure of 2008.
If Chinese copper demand continues to grow at the current rate, analysts predict that prices may soar by 25 percent next year as domestic demand outstrips supply.
It was only in the wake of the 2004 commodities boom that copper prices began to climb. Prior to that the metal traded at less than $2,000 per ton.
Meanwhile, Chinese imports of unwrought and semi-finished copper products fell nearly 26 percent month-on-month to 273,511 tons in October, the lowest level in a year, as high prices bit into demand, data from the General Administration of Customs showed.
It was the second straight monthly decline, coming after imports fell nearly 3 percent to 368,410 tons in September from August.
China's output of refined copper reached 3.9 million tons over the first 10 months of this year, representing an increase of 12.5 percent year-on-year, according to figures from the National Bureau of Statistics.