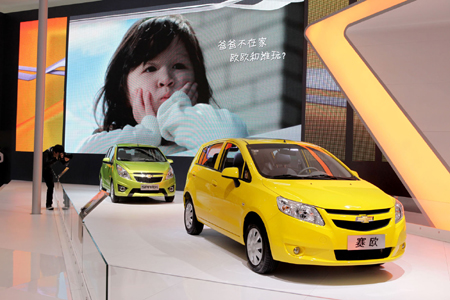 Chevrolet Sail compact cars at the 2010 Beijing International Automotive Exhibition. [Photo/China Daily]
SHANGHAI - General Motors Co (GM), the largest overseas carmaker in China, has failed to replicate that success in India. To crack the market, the Detroit-based carmaker is enlisting its partner in China, SAIC Motor Corp.
The alliance produces the best-selling vehicle in the world's biggest car market, where it has a 13 percent market share. GM has struggled in India since entering in 1994, with its Chevrolet models accounting for only about 5 percent of car sales in Asia's second-fastest growing major economy.
GM and Shanghai-based SAIC will start selling models in India next year that are similar to those now sold in China, Kevin Wale, GM's China president, said in an interview. The alliance will challenge Maruti Suzuki India Ltd, the nation's largest carmaker with a 41 percent market share, and Tata Motors Ltd, maker of the world's cheapest car, the Nano.
"The Indian market is very similar to the Chinese market," Wale, who is based in Shanghai, said last month. "They also have a need for a lot of products that have already or are being developed for the Chinese market."
The partners may introduce as many as three light commercial vehicles and two passenger cars in India by 2012. The alliance also is targeting other developing markets. Last month, it started exporting Chevrolet Sail compacts made in China's Shandong province to Chile and Peru.
GM and SAIC said in December they would spend $650 million forming a new venture to build and sell passenger cars and small trucks in India. The automakers have not identified the first vehicles to go on sale next year.
The two companies plan to use their expertise in China to gain a competitive advantage in India, said Judy Zhu, a Shanghai-based spokeswoman for SAIC. They are confident the partnership will be successful, she said.
Domestic car sales in India rose 29 percent from a year earlier to 215,632 units in September, the Society of Indian Automobile Manufacturers said in New Delhi. Deliveries in China rose 19 percent to about 1.21 million units in the same period.
India's passenger-car sales were 1.95 million in the year ended March 31. The government estimates sales may pass 3 million by 2015. During the past five years, India's economy grew by an average of 8.5 percent annually, and per capita incomes gained 70 percent.
GM and its partners have 13 percent market share in China this year, Chief Financial Officer Chris Liddell said on Nov 4. This is up from 3 percent in 2000, he said in a presentation for investors.
The closer ties come as GM aims to raise as much as $10.6 billion in an IPO, two people familiar with the plan said on Nov 1. SAIC Chairman Hu Maoyuan said his company may participate in the offering.
GM entered China in 1997 with a $1.57 billion contract to manufacture Buick Regal and Century sedans with SAIC.
It now owns 49 percent of passenger-car venture Shanghai GM Motor Co and 34 percent of minivan-maker SAIC-GM-Wuling Automotive Co.
SAIC owns 51 percent of Shanghai GM and 50.1 percent of SAIC-GM-Wuling.
Bloomberg News