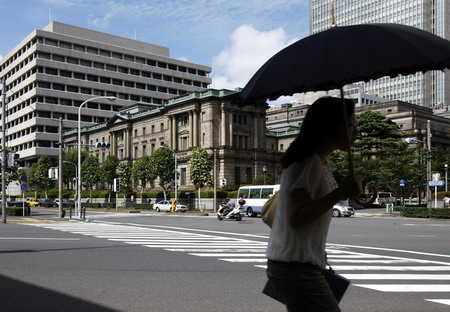 A pedestrian passes the Bank of Japan headquarters in Tokyo. Japan's benchmark 10-year yields sank to a seven-year low after the Bank of Japan cut its key interest rate to a range of zero to 0.1 percent. [Photo / Bloomberg]

Nation cuts holdings as yen approaches 15-year high
TOKYO - China sold a net 769.2 billion yen ($9.5 billion) of Japanese bonds in September, the second straight month to cut holdings as the currency approached a 15-year high.
China offloaded a net 624.3 billion yen in short term Japanese debt and 144.9 billion yen in long term bonds, Japan's Ministry of Finance said in a statement on Tuesday.
China may be selling Japanese securities on concern the yen will weaken after it reached a 80.22 per dollar high on Nov 1, the strongest level since April 1995, said Junichi Makino, a senior economist at Daiwa Institute of Research Ltd in Tokyo.
"If China sees 80 yen close to the currency's possible peak of appreciation, it makes sense for them to sell," Makino said. "Because Japanese debt has almost no yield, China can only get returns from currency gains."
Japan's benchmark 10-year yields sank to a seven-year low, after the Bank of Japan cut its key interest rate to a range of zero to 0.1 percent on Oct 5 and announced the creation of a 5 trillion yen fund to buy domestic debt.
China sold a record 2.02 trillion yen of Japanese debt in August after having bought 2.32 trillion yen of the securities this year through July, according to Ministry of Finance data. The nation boosted holdings of South Korean sovereign bonds by 438 billion won ($392 million) in October, the biggest increase since May, South Korean figures showed on Nov 3.
'Short-term profits'
"China doesn't seem to invest in Japan for long-term returns but appears to regard the country as a market for short-term profits," said Ayako Sera, a strategist at Sumitomo Trust & Banking Co.
China's foreign exchange reserves, the world's largest, surged by a record to $2.65 trillion at the end of September, a statement from the People's Bank of China showed on Oct 13.
Japan had 904 trillion yen in outstanding government bonds and borrowings as of June, data from Japan's Ministry of Finance showed. About 95 percent of Japan's debt is held domestically, which credit rating agencies have said supports the country's creditworthiness even as borrowings approach 200 percent of GDP.
Bloomberg News