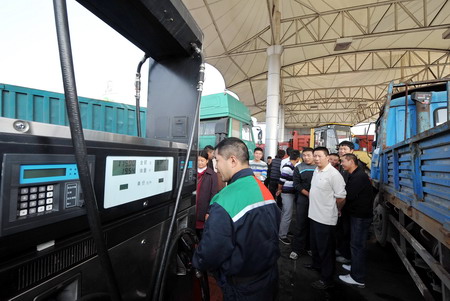 Drivers wait to refill their trucks at a fueling station in Shaoxing, Zhejiang province, amid a diesel shortage. [Photo / China Daily]
Producers open taps to mitigate fuel shortages caused by blackouts
BEIJING - China's top oil refiners are boosting diesel production to tackle fuel shortages as unexpected demand hits the markets.
PetroChina Co, the nation's largest oil company, is boosting diesel output as the country battles shortages of the fuel that have left some gas stations dry in the south and east of the country.
PetroChina's western plants had produced 56 percent more winter-grade diesel by the end of October compared with a year ago, parent company China National Petroleum Corp said in a statement on Monday.
In a bid to avert diesel shortages, China Petroleum & Chemical Corp (Sinopec), the nation's largest oil refiner, also decided to increase daily oil processing to a record this month.
Processing will rise 10 percent from a year earlier to 583,000 tons a day, exceeding the October record by 5,900 tons a day, parent China Petrochemical Corp said recently. Daily diesel processing will reach 168,000 tons this month, up by 10,000 tons, according to the plan.
The oil refiner also aims on importing 200,000 tons of diesel fuel after a batch of recent measures to increase supply.
Sinopec has also said it will not carry out maintenance at oil refineries in major centers, and has postponed work at plants including Gaoqiao in Shanghai and in Guangzhou.
A trader said Sinopec was slashing diesel exports to cope with the domestic shortage.
"With all the measures adopted by the two refiners to increase supply, a mitigation can be expected in December," said Zhou Xiujie, industry analyst at China Investment Consulting.
Diesel is generally used as fuel for vehicles, generators and ships.
More than 2,000 privately owned gas stations in southern China have shut down due to a lack of diesel, according to the China Chamber of Commerce for the Petroleum Industry.
Power blackouts are one of the factors directly causing the diesel shortage. Factories have increasingly turned to small diesel generators after some local governments rationed the supply of electricity in September. Long lines of cars and even "sold out" signs at gas stations are increasingly common sights in many cities.
During the 11th Five-Year Plan (2006-2010), China sought to reduce energy consumption per unit of GDP by 20 percent.
In the first four years, a 15.6 percent reduction, compared to the previous five-year plan, was reached. But energy consumption per unit of GDP increased 0.09 percent in the first half of 2010, year-on-year, signaling difficulties in achieving targets.
In the rush to meet regional targets set by the central government, many local governments chose to introduce blackouts in the remaining two months of the year, a conservation method that has quickly spread to many provinces.
"Power outages are the direct cause of the undersupply in diesel," Zhou said. "Also adding to the unexpected incident are increasing crude oil prices and a pick up in the logistics and transportation sectors that also use diesel fuel."