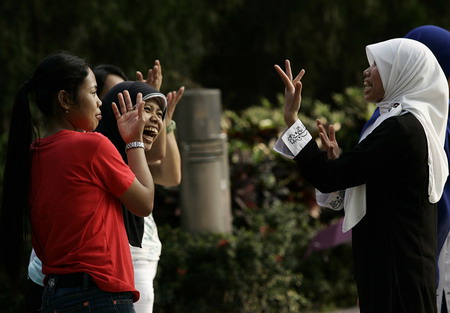 Several Filipina maids enjoying their rest time during a weekend in Hong Kong. Increasing numbers of Chinese families who can afford to pay more are willing to hire Filipina maids, even at the expense of flouting the law. [Photo/China Daily]


High cost of hiring Filipina maids does not deter affluent employers
SHANGHAI - Although it can be a lonely life, Aurea Blance, feels it is worthwhile working as a housemaid on the Chinese mainland, if only for the money.
The 49-year-old Filipina arrived in Jiangsu province's Changzhou city, near cosmopolitan Shanghai six months ago. She was surprised by how rich her employers are in such a little known Chinese city.
"I'm here making triple what I did as a mathematics teacher at a Philippines elementary school," Blance said. Her employers, a young entrepreneur couple in their early 30s, pay her around 3,500 a month.
"It's impossible to find a job in our profession that pays as high as a housekeeper receives here in China. That's why I came here," she said.
Her earnings in China can fully support her husband and four children back in the Philippines, the maid added.
Blance's employers live in a three-story apartment in the downtown area of the city. They have three housemaids, of whom Blance is the only foreigner. "My job is to take care of their 5-year-old boy and do a little routine housework," she said.
Like most of her Filipino peers, Blance possesses a bachelor's degree in education. Her major advantage in competing with Chinese maids is her English. "My major job in my madam's family is to teach her son English, which I started learning when I was five," she said.
According to Blance, 45 percent of women from Nueva Vizcaya province, where she comes from, leave their families to come to work as maids in industrialized countries and regions such as Singapore and Hong Kong.
As the number of rich people has increased on the mainland, so has the number of Filipina housemaids.
"Wages in the mainland are even higher than in Hong Kong, but living expenses, particularly food, are much cheaper. Therefore, we can save more working here," Blance said.
Due to official restrictions on foreign housemaids working on the mainland, there are no official figures revealing how many are in the mainland. But James Mo, who runs an agency to introduce Filipino maids to the mainland, said the number in Shanghai alone is more than a thousand.
Shanghai Golden Luzon Business Consultancy Co, the name of Mo's small enterprise, has introduced more than 60 maids from the Philippines since it started running in 2008.
Much to Mo's surprise, more than 80 percent of his clients are mainland people rather than foreigners in high positions at multinational companies in Shanghai.
"The higher cost of hiring a Filipina maid does not deter affluent Chinese employers," said Mo, who studied in the Philippines. Instead, more families are willing to have Filipina maids because of their better educational background, their fluent English, their well-trained housekeeping ability and their politeness, he said.
Since establishing his company, the phone has never stopped ringing, and demand has far surpassed supply.
"We receive about 30 telephone calls a month asking to employ Filipina housemaids now, up 30 percent from 2008," Mo said, adding that most enquirers are aged in their 40s with children.
Even though, there's an absence of supportive policies from the Chinese government to allow foreign domestic helpers to work on the mainland, the demand in Shanghai alone is exploding.
Industry experts estimate that generally employers of foreign maids in Shanghai are families with an income exceeding 1 million yuan annually.
Figures in the 2010 Hurun Wealth Report, which specializes in tracking China's rich, showed that the number of millionaires in the mainland was up 6.1 percent from the previous year at 875,000. Shanghai accounts for 14 percent of them.
"The market potential is huge here in the city, but little demand can be realized because of policy restrictions," Mo said.
All Filipina maids in China hold tourist visas, most of which need to be renewed every six months. They do not allow the holder to work, a cause of inconvenience to employers responsible for renewing the visas.
"Most of my friends in my hometown are willing to come to China, but only a small fraction of them eventually make it because of visa issues," Blance said, hoping that the job market will open up more to her and her peers one day.