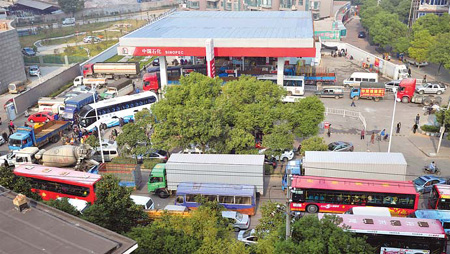 Vehicles wait in long lines at a gas station in Nanchang, capital of Jiangxi province, over the weekend. Many gas stations in the city are suffering from a diesel shortage. [Photo/ China Daily]


Enterprises turn to fuel generators amid power cuts to meet conservation aims
SHANGHAI - Cities are facing an unprecedented diesel shortage as power outages are forcing enterprises to use diesel to generate electricity.
Some local governments are switching off electricity supplies to reduce emissions and meet the government's conservation targets.
The blackouts are one of the factors unwittingly causing the diesel shortage. Long lines of cars and even "sold out" signs at gas stations are increasingly common sights in many cities.
More than 2,000 privately owned gas stations in southern China have shut down due to a lack of diesel, according to the China Chamber of Commerce for the Petroleum Industry.
In the industrial and developed regions, such as the deltas of the Pearl and Yangtze rivers, hundreds of gas stations are waiting for diesel deliveries.
In Ningbo, a coastal city of Zhejiang province, drivers complained that diesel is unavailable in many State-owned gas stations. Even in some gas stations that still have diesel, trucks are only allowed a half-tank. Diesel prices have surged 20 percent to 8 yuan ($1.3) a liter, a Ningbo Evening News report said.
"I tried several gas stations, and finally one said they had diesel but I could only get 30 liters. I tipped a staff member 50 yuan so he sold me 50 liters," Liu Xing, a long-haul truck driver from Ningbo, said.
Zhang Jiagui, a truck driver from Jiaxing, Zhejiang province, said in the past week he and his colleagues had to drive to Shanghai to get tanks filled, because there was no diesel in Jiaxing.
Zhu Yansong, a manager with a local branch of Sinopec, estimated that enterprises in Jiaxing needed more than 1,000 tons of diesel every month to generate electricity during periods of forced power outages.
Enterprises in Jiaxing have to cut power at least two days each week to meet conservation targets, said Shen Guangmin, a private enterprise owner.
During the 11th Five-Year Plan (2006-2010), China sought to reduce energy consumption per unit of GDP by 20 percent.
In the first four years, a 15.6 percent reduction (compared to the previous Five-Year Plan) was reached. But energy consumption per unit of GDP increased 0.09 percent in the first half of 2010, year-on-year.
In a rush to meet regional targets set by the central government, many local governments chose to introduce blackouts in the remaining two months, a conservation method that quickly spread to many provinces.
Hefei, capital city of Anhui province, designated the period from Oct 20 to Nov 20 as a month of energy conservation and introduced a number of measures. Elevators in most office blocks will not stop below the fourth floor and hotel and restaurant owners are encouraged to turn off air conditioners. Lighting at shopping malls and scenic spots are switched off from 9:00 am to 10:00 pm every Saturday.
Zhao De, from the office of energy conservation of the province's Department of Economic and Information Technology, said during a meeting last week that the main methods of achieving conservation goals are to restrict electricity use in high-energy consuming enterprises and to shut off lighting at scenic spots.
More than 1,000 high-energy enterprises in Anhui were advised to restrict electricity use from October.
"Our life is definitely affected," said Xiao Yang, a 27-year-old resident from Mingguang city, Anhui. "I had to shut down my online shop for two weeks because I had no power for my computer."
The irrational blackout policies by some local governments run counter to the principle of energy conservation targets, said Zhang Jianyu, China Program manager of the US Environmental Defense Fund.
Zhang added that blackouts might stall economic growth and increase emissions and fuel consumption due to the frequent use of diesel generators.
Zhong Yongsheng, deputy director of the Center for China's Urban-Rural Development Studies, said blackouts were not a wise choice. "What local governments need to do is to change economic growth patterns and promote development through high efficiency and low-energy consumption sectors."
China Daily - Xinhua