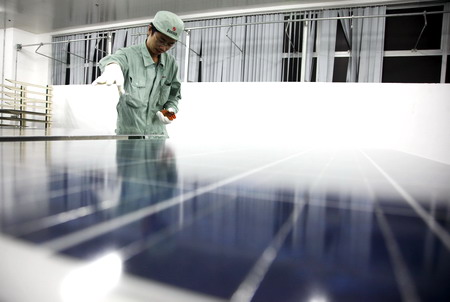 A worker conducts a final inspection on solar panels at the Suntech Power Holdings Co factory in Wuxi, Jiangsu province. Suntech's US operations are expected to create hundreds of jobs in the United States by producing solar panels.  [Photo/ Bloomberg]
BEIJING - Suntech Power Holdings, China's largest solar panel maker, plans to create more than 1,000 jobs in the United States over the next few years, a further indication of Chinese new-energy companies' growing global presence.
"This is truly an international marketplace, especially when you're talking about solar. It always has been. It makes a very positive statement - here's a Chinese solar company that's literally exporting jobs from China to the US," Roger Efird, managing director of Suntech, said earlier.
More than 8,000 applicants are vying for 150 jobs at Suntech's Arizona plant, its first in the US. The plant is part of its long-term strategy for the US, which the company expects to be its biggest market in three years.
Suntech hopes its first manufacturing plant in the country can help ease worries that China is taking green jobs from the US, especially when the employment situation stateside remains bleak.
The US solar market is growing significantly and is expected to become the world's second-largest this year, with an estimated annual growth of 42 percent by 2020, and Chinese manufacturers are trying to get a foothold.
US-listed Chinese solar panel manufacturer Yingli Green Energy Holding Co Ltd said it hopes to sell at least 10 percent of this year's output in the US.
While Europe and the US are important markets for the solar industry, others are also expanding, with Africa, South America and Southeast Asia emerging at a rapid pace, said Jason Liu, Yingli's vice-president.
The company expects to boost its US market share to 12 percent next year from the current 10 percent, despite recent trade disputes.
Following an application from the United Steelworkers union, the US government announced on Oct 15 that it had initiated a Section 301 investigation into China's policies and measures related to clean energy, raising concerns over trade barriers in the solar and wind power sectors.
In order to cut logistics costs, Chinese wind turbine manufacturers are establishing overseas production facilities.
Sinovel Wind Group Co Ltd, China's largest wind turbine maker, said it is in discussions with the Ohio state government on the possibility of opening a factory there.
"Local government welcomes such investment because it will create jobs," said Tao Gang, vice-president of Sinovel.
Whether the company will make the investment depends on the US wind power industry policy, said Tao.
Other Chinese new-energy companies planning factories in the US include Mingyang Wind Power Group and A-Power Energy Generation Systems Ltd.
Though China is the world's largest wind turbine maker, exports to the US remain negligible. China has exported only three wind turbines to the United States so far with total power-generating capacity of less than 10,000 kilowatts.
But direct overseas investments could also be a risky choice as industry policies in those countries are unpredictable, said Li Junfeng, deputy director-general of the Energy Research Institute under the National Development and Reform Commission.