SHANGHAI - China's stocks fell from a six-month high on concern recent gains were excessive given the prospect the government may join India and Australia in tightening monetary policy to curb inflation.
China Shenhua Energy Co and China Coal Energy Co, the nation's two largest coal producers, slid more than 1 percent. Agricultural Bank of China Ltd and Huaxia Bank Co paced declines for lenders after China Business News said the government may cut the money supply next year. China Shipping Development Co, a unit of the second-biggest sea-cargo group, rose to the highest in six months after Essence Securities Co recommended the stock on higher shipping rates.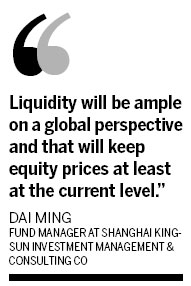 "Liquidity will be ample on a global perspective and that will keep equity prices at least at the current level," said Dai Ming, a fund manager at Shanghai Kingsun Investment Management & Consulting Co. "But domestic monetary policy is uncertain and will probably be normalized further next year." The Shanghai Composite Index declined for the fifth time in six days, losing 0.3 percent to 3045.43 at the 3 pm close on Tuesday. The CSI 300 Index slid 0.3 percent to 3463.13 on Tuesday.
China's stocks will be "range-bound" this month, as some investors are likely to sell shares amid the rally, according to Shenyin & Wanguo Securities Co. The Shanghai Composite, which surged 12 percent last month to top major global stock indexes, will trade between 2900 and 3150 in November, analysts led by Yuan Yi at the brokerage wrote in a report on Tuesday.
A gauge of energy producers slid 2.1 percent, the second-most among the 10 industry groups in the CSI 300. The measure has gained 32 percent over the past month, pushing up price earnings to 20.7 times, up from 16.2 at the beginning of October.
China may cut its M2 money supply target to 15 percent or 16 percent next year, from 17 percent, China Business News reported on Tuesday, citing an unidentified person. The government is considering changing to a "sound" monetary policy from a "moderately loose" one next year, the newspaper reported.
Australia and India raised interest rates on Tuesday before central bank meetings in the United States and Japan this week. The Reserve Bank of Australia unexpectedly increased its benchmark rate on concern stronger economic growth will fuel inflation, while India's central bank raised borrowing costs for a sixth time this year.
China's inflation rate may rise to around 4 percent in October and will resume climbing next year even if it moderates at the end of 2010, Barclays Plc said on Monday.
Air China Ltd paced a retreat for airlines, falling 4.5 percent. China Southern Airlines Co, the nation's biggest carrier by fleet size, lost 4.5 percent.
Bloomberg News