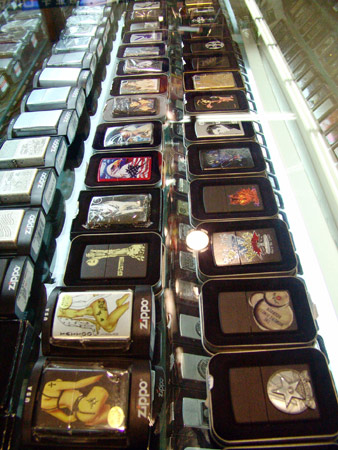 collection of Zippo cigarette lighters on sale at a shop in Henan province. [Photo/China Daily] 
Company gears up its development as more people buy into status symbols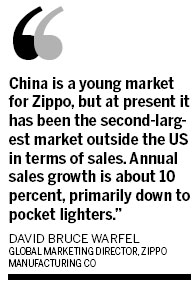 BEIJING - Sitting low in his office chair and snapping a Zippo displaying a picture of a snake in the air, 34-year-old Kim Lee spoke of his collection of more than 1,000 of the iconic pocket lighters on display in a vintage curio cabinet in his office in downtown Beijing.
Lee has been zealously collecting Zippos for eight years since he was inspired by a spy movie in which the intelligence agents used the phrase "Sir, your Zippo lighter is cool" as a secret signal.
As a veteran collector, Lee can even distinguish the lighter's category and date of manufacture just by listening to its click. He is also able to play lots of dazzling tricks using them.
"The brand is able to satisfy all my fantasies of heroism and machismoism. I never joined in or witnessed any war or conflict but I can still smell the breath of a hero," Lee said. "It is similar to my wife's enthusiasm for hunting for Hermes Birkin bags."
Elbow your way through the crowds at Shinkong Place, one of the most trendy fashion landmarks in Beijing, and you can't miss the Zippos decorated with images of Peking Opera masks or an ideogram. They make great accessories at parties.
In 1995, the Zippo Manufacturing Company, based in Bradford, Pennsylvania, began marketing in China through its current China importer, New Frontiers Ltd, headquartered in Hong Kong. It has so far opened more than 1,000 outlets across the country.
David Bruce Warfel, global marketing director of the family-owned business, told China Daily that due to the booming Chinese consumer market, the company has geared up its development in the country as more people look to owning status symbols.
Zippo Chief Executive Officer Greg Booth said earlier that 60 percent of Zippo's annual sales came from overseas. China, with its 320 million smokers, could easily add $10 million to that total by the end of 2010.
Recent research conducted by Zippo's marketing department shows that Zippo had gained more than 50 percent brand awareness in China and had the highest product attribute scores for quality, durability and good looks.
Warfel said: "China is a young market for Zippo, but at present it has been the second-largest market outside the US in terms of sales. Annual sales growth is about 10 percent, primarily down to pocket lighters."
The importance of China to Zippo is reflected in the fact that more than 20 percent of the annual international marketing budget is spent here, and it will continue to invest significantly for future growth, Warfel added.
Around 16 million lighters are sold a year, with 10 million in China alone, making some 7 billion yuan in sales,
It might be one of the most challenging jobs in the world when you have to sell products in a country that has a strong manufacturing base for rival goods. It is more difficult when many people are familiar with the logo "Made in China" while you are promoting "Bradford, PA" products.
Warfel said that Zippo's advantage was its famous lifetime guarantee of "It works or we fix it for free".
Since the company was set up in 1932, almost 500 million lighters have been produced and sold worldwide.
"Our marketing message in China is aimed at 18- to 24-year-olds. Although it is not necessarily our biggest consumer base, they are the group we are eager to build our brand status with," Warfel said.
The post-80s generation has become a major force driving consumption in China's urban areas, according to a survey by market research firm CTR.
Another report by Bergstrom Consulting found that the 15- to 25-year-olds in China want to be more individual and are far more fashion-conscious than their parents.
"The major strategy for us is to involve our products with pop music-related celebrities, events and phenomena," Warfel said, adding a campaign in cooperation with Jack Daniel's Tennessee Whiskey proved to be a big success.
Warfel said: "We have a line of lighters decorated with Swarovski crystals. The Zippo Slim models are smaller in size and designed for women."
Chinese characteristics are popular in Western countries but the Chinese usually prefer Western cultural elements such as punk- or jazz-related imagery, he added.
"We are willing to be closer to our young consumers in all ways," he said.
In 2008, the company launched the Virtual Zippo Lighter iPhone application, which was downloaded 3 million times within a year.
Warfel disclosed that a service which enables users to have their photos on their Zippo lighters will be available soon in China.
The company also invites Chinese young consumers to design the appearance of their Zippos. The lighters and fuel are available at 7-Eleven stores, a popular store among the young.
"However, Zippo is not just about lighters," Warfel said.
Because of the limited market for lighters, Zippo has diversified since purchasing the W.R. Case & Sons Cutlery Company in 1993. In 2004 it acquired an Italian leather goods company called DDM Italia, establishing Zippo Fashion Italia.
Zippo has expanded into other consumer products including candles, writing instruments, watches, hand warmers, fragrances, clothes and outdoor specialty products.
It announced it would introduce a fragrance for men in the run-up to Christmas in Western Europe that will be available in China next year.
In addition, Zippo has been selling men's sportswear in South Korea for the past five years. The line will be introduced to the United States next March and soon be launched in China.
Next year, Zippo will introduce most of its products to the Chinese market, Warfel said.
He added: "We want Chinese consumers to be aware that buying Zippo products is not an indulgences but a good investment since some of Zippo's lighters have appreciated in value."
Recently some lighters were sold for between $11,000 and $20,000 online on eBay, he added.
During Zippo's 75th anniversary in 2007, the company held an action in which it sold one of the original 1933 Zippos for $37,000.
Other high-priced Zippos include another 1933 Zippo lighter with diagonal lines on the lid, auctioned for $18,000 on eBay, and an 18 carat gold Zippo lighter complete with a custom cherry gift box, available from Zippo for about $8,676.
According to figures from Zippo, it's estimated that there are 4 million Zippo collectors in the United States and millions more around the world.
Zippofans.com, one of the largest online collecting clubs in China, currently has more than 40,000 members.
To enhance the collecting experience, Zippo began hosting the Zippo/Case International Swap Meet in 1995. Currently, swap meets are held in Bradford every other year, alternating with a similar event in Japan.
Kim Lee said: "Behind every Zippo lighter, there is a story and you share stories and know more people by collecting them."