Increased yields negate impact of bad weather
ZHENGZHOU - Grain output from increased farmland will offset the impact of inclement weather and help the country reap a seventh consecutive year of surplus crops, senior agricultural officials and researchers said.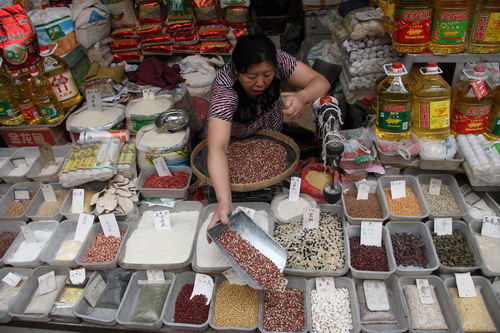 A vendor sells grain in Huaibei, Anhui province, on Oct 21, 2010. [Photo / China Daily]
"The official estimation for this year's total grain supply has outstripped last year's level, which was 530.8 million tons," Zhang Hongyu, deputy-director of the policy department of the Ministry of Agriculture, has said.
China released its macroeconomic data on Thursday, with the consumer price index (CPI), a main gauge of inflation, rising 3.6 percent in September. The rise, a 24-month high, has triggered growing concerns that the index will get out of control if no effective measures are taken.
Surging food prices following "adverse natural conditions" were the major reason behind the accelerated CPI growth, said Sheng Laiyun, spokesman for the National Bureau of Statistics.
While it will not easily be achieved, another harvest this year will help offset the impact of bad weather and alleviate rising inflationary pressure, researchers said.
"A seventh straight year of surplus harvest won't come easily as the output of summer grain dropped by 0.3 percent year-on-year and the yield from early rice harvests fell by 6.1 percent year-on-year due to drought and flood," said Xu Xiaoqing, a senior researcher of the Development and Research Center of the State Council.
Fortunately, a newly added farm area of 890,000 hectares in 2010 for autumn grain, particularly corn, will offset the loss and ensure the year's harvest, Xu said.
Of the farm area covered, about 66,667 hectares for autumn grain were transferred from those used for growing cotton.
As a result, cotton prices almost doubled from last year's level, he said.
"China's corn imports will continue to grow in the long run, but China won't rely entirely on imported corn," Xu said.
China's 160 million tons of annual production for corn can generally meet the nation's demands, he said.
A stable grain output will help ease inflation expectations amid international and domestic price fluctuations, analysts said. Food prices account for about 30 percent of the factors used to calculate China's inflation.
The prices of agricultural products in the country have seen record fluctuations since the beginning of the year. Prices of mung beans, ginger, cotton, sugar and soybean oil all surged sharply.
Related readings:


 Grain market to keep stable with good harvest


 Agro centers urged to focus on grain production


 China steps up measures to ensure grain security


 Corn, soybean up on inclement weather worries
Besides rising costs, a large amount of the excess liquidity has flowed into the agricultural sector to avoid risks in the property and stock market, which also caused price fluctuations, Xu said.
As prices surge, the Chinese agricultural industry has seen significant investment in the past months and the next five to 10 years will be the "golden age" for agricultural investment, analysts said at the Second China Agriculture Investment and Financing Fair in Zhengzhou, capital of Henan province.
"All kinds of capital have flowed into the agricultural industry along with its rapid growth and promising future," said Zhang Yuxiang, chief economist of the Ministry of Agriculture.
Since 2009, about 14 agriculture-related enterprises have listed on the small and medium-sized enterprise board and the growth enterprise board, with raised funding of 11.88 billion yuan ($1.79 billion).
Eight listed agriculture-related companies achieved refinancing of 5.47 billion yuan, according to official figures.