More monetary tightening possible following latest inflation figures
BEIJING - China still faces strong inflationary pressure in the coming months after consumer prices hit a nearly two-year high in September, raising the possibility of more monetary tightening measures, economists said.
The possible measures, however, will not hamper China from playing a major role in the global economic recovery, they said.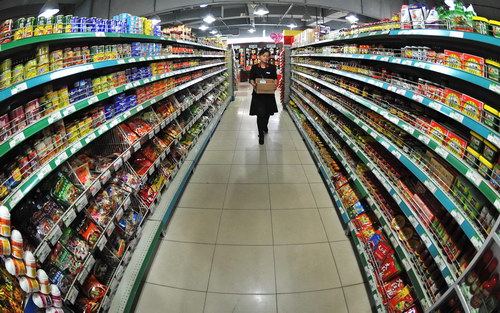 A supermarket employee packs shelves in Yinchuan, capital of the Ningxia Hui autonomous region, on Oct 21, 2010. The National Bureau of Statistics said that China's economy grew at a slower but still robust pace of 9.6 percent in the third quarter, and the consumer price index rose 3.6 percent in September from a year earlier, the fastest pace since October 2008. [Photo / Xinhua]
China's gross domestic product (GDP) registered 9.6 percent growth year-on-year in the third quarter, slowing down from 11.9 percent in the first quarter and 10.3 percent in the second, the National Bureau of Statistics (NBS) said on Thursday.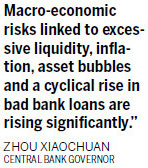 The consumer price index (CPI), the main gauge of inflation, reached 3.6 percent in September year-on-year, and was up 0.6 percent from August, it said.
Price rises contributed to 64 percent of the CPI increase, compared to 36 percent from the comparison base last year, said NBS spokesman Sheng Laiyun at a State Council Information Office news briefing.
Higher imported inflation risks caused by rising commodity prices, and increasing labor and raw material costs would continue to drive up the index for the rest of the year, he said.
But last year's higher comparison base, a new grain harvest this year, and an oversupply of industrial goods would help cool inflationary pressures.
Many analysts predict the figure will rise slightly before declining gradually by the end of the year.
The index might reach 4 percent in October and start to decline in November, Lu Zhengwei, chief economist at the Industrial Bank, said.
Matthew Circosta, economist at Moody's Analytics in Sydney, said food prices would continue to be the main cause of inflation. "Higher food prices will indirectly add to production costs and raise inflation expectations," he said.
Wang Tao, head of China Economic Research at UBS Securities, also said the CPI will likely peak in October at about 4 percent.
Given that China has set a target of keeping inflation below 3 percent for this year, more monetary tightening could come, analysts said.
"In the near term, we expect the government to gradually hike (interest) rates without hurting the growth momentum", said a Citigroup report, while pointing to the country's solid GDP growth in the third quarter.
NBS spokesman Sheng said although price increase pressures remained, it was still "possible" to achieve the 3 percent target.