Hong Kong Exchange and Clearing offers more investment channels into mainland
BEIJING - The Hong Kong Exchanges and Clearing Ltd (HKEx) will launch yuan-denominated securities products next year to channel offshore yuan deposits back into the mainland's equities market, said Charles Li, chief executive officer of HKEx.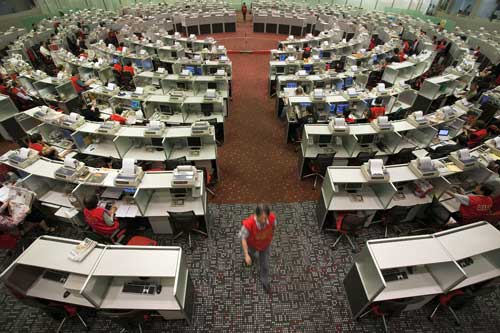 A trader walks through Hong Kong Exchanges and Clearing Ltd's trading floor. [Photo/China Daily]
Yuan-denominated stocks will be launched first to promote using the yuan in the trading and clearing of securities products, Li said. Yuan-denominated financial derivative instruments will not be introduced in the near future. Issuing yuan-denominated securities products will make the yuan a more internationally relevant currency and help to stabilize the exchange rate of the Hong Kong dollar, said Joseph Yam Chi-kwong, former president of the Hong Kong Monetary Authority.
Yuan-denominated investments in stock markets could reduce the exchange rate risk, as the exchange rate of the Hong Kong dollar fluctuates during initial public offerings because of the huge capital flow of the currency. Many overseas institutional investors see the Hong Kong-based H-share market, which only allows trading and clearing using the Hong Kong dollar, as a springboard to invest in the mainland's equities market. It will become increasingly necessary to directly use the yuan in the stock market for overseas investments, Yam said.
The government plans to launch a pilot program dubbed the "mini-QFII (Qualified Foreign Institutional Investor)" in Hong Kong. This program will expand yuan business by allowing overseas intuitional investors to invest offshore yuan deposits, within certain quotas, back into mainland capital markets.
Related readings:


 HK's securities watchdog OKs first RMB-denominated fund


 McDonald's puts yuan-denominated bonds on its menu


 SFC approves 1st yuan-denominated fund
Analysts have said there will be more investment channels for overseas holders to participate in the mainland's capital market under the "mini-QFII" program. The mini-QFII program aims to promote the internationalization of yuan and decrease China's reliance on the US dollar in cross-border trades and investments. Until now, there has been no specific time schedule to approve eligible securities brokerages and financial products in the program. However, the HKEx has informed all Hong Kong securities companies to update their trading systems to ensure that they are prepared for yuan-denominated financial products and relevant operations, according to People's Daily.
The volume of the first batch of quotas under the mini-QFII would probably be 20 billion yuan ($2.99 billion), according to Securities Times. Moreover, securities brokerages, as well as fund houses, will divide that quota equally after getting approval from the nation's central securities regulator, the China Securities Regulatory Commission, the report said.
A large number of subsidiaries of mainland brokerage and fund houses in Hong Kong are expected to take part in the mini-QFII program.
Compared with the mini-QFII, overseas direct investments may encourage more capital to flow back into the mainland's equity markets and help shore up capital liquidity, Li said.