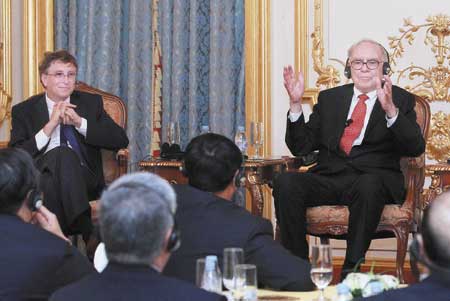 US billionaires Warren Buffett (right) and Bill Gates host a banquet in Beijing on Wednesday night that has sparked debate about Chinese philanthropy. Pang Xinglei / Xinhua 
Gates praises candor, insights of billionaires
BEIJING - Fifty Chinese guests attended a banquet on Wednesday night with US billionaires Bill Gates and Warren Buffett to discuss philanthropy, the art of giving.
The banquet, preceded by a 90-minute discussion, was held at the Chateau Laffitte Hotel outside Beijing.
The guest list was not made public, at the request of Buffett and Gates, but earlier reports said that it included Pan Shiyi and Zhang Xin, the chairman and CEO of property developer SOHO China, and Niu Gensheng, founder of Mengniu Dairy.
Film star Jet Li, a philanthropist, had said he would meet Gates and Buffett before the banquet to talk about charity.
There had been wide speculation that many of those invited would be reluctant to attend over fears of being pressured to give away money.
"We're grateful so many people made the time to attend, and for their candor and insights," said Gates, co-chair of the Bill & Melinda Gates Foundation, and chairman of Microsoft, after the meeting.
"People are doing some very good thinking about how their good fortune can have a positive impact on China and the world."
Buffett, chairman of Berkshire Hathaway, said: "By any measure, it was a tremendous success. We had a terrific exchange of views, and learned a great deal about the good work that is already under way."
The pair were enthusiastic about the future role of Chinese business leaders in philanthropy.
"Today's generation of successful entrepreneurs has the chance to lead and inspire giving for generations to come," said Buffett. "From the tone of our conversations, I am confident that they will."
Recently, 40 wealthy families in the United States agreed to participate in the Giving Pledge, a commitment to return the majority of their wealth to society through philanthropy - during their lifetime or at their death.
Buffett and Gates chose China to advocate philanthropy partly because of the sheer number of Chinese billionaires.
"China probably now has the largest number of billionaires in the world," Rupert Hoogewerf, founder and publisher of the Hurun rich list, said.
"We already know of 189 US dollar billionaires in China this year, but you can safely say that we have missed at least half again, meaning there could be between 400 and 500 billionaires."
According to the Hurun Research Institute, China has 1,363 individuals with personal wealth of at least 1 billion yuan ($150 million), an increase of more than 350 from last year.
"Drinks King" Zong Qinghou of Wahaha is listed as the richest man in China with a personal fortune of $12 billion. The 65-year-old did not attend the meeting on Wednesday night.
The efforts of Buffett and Gates in raising awareness of philanthropy among the ultra rich and society in general were warmly praised.
"Rich people in China are very busy and many do not have time to think about charity or to do very much about it," Hoogewerf said. "I am sure the quality of people (who went to the dinner) are very high. It is already good for them to think about it."
"The event has suddenly made philanthropy a mainstream topic," said Peng Jianmei, director of China Charity and Donation Information Center. "The widespread media coverage and the heated debates since they announced their trip has already been a success in advocacy in charity and philanthropy."
Amid the debates on approaches to improve China's philanthropic environment, Gates and Buffett stressed that China would need to find its own approach to philanthropy, appropriate to its unique situation.
"We expected China to surprise the world in how it embraces philanthropy," said Buffett. "Hearing about the giving that happens at every level of society in modern China was inspiring. If Bill and I could contribute to encourage the very fortunate to follow their desire to do more, then our trip was a complete success."
Buffett was also in China to attend a series of events by BYD Co to highlight the company's clean energy strategy. Buffett's Berkshire Hathaway owns a 10 percent stake in BYD.
At an event on Wednesday in Beijing, BYD announced it would donate 1,000 sets of electricity storage systems for houses in remote areas of Tibet.
"We take for granted having electricity. Many families haven't had electricity. It can change the world," Buffett said.
AP and AFP contributed to this story.