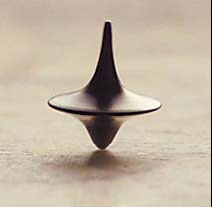 Spinning tops have become a hot online commodity for movie fans, following the success of Inception. [Provided to China Daily]
Christopher Nolan's sci-fi thriller Inception, which has been the hottest movie in town since it hit the screens on Sept 1, has also led to a boom in the online sales of a prop, the spinning top used by Leonardo DiCaprio.
With the growing popularity of the film, spinning tops, costing between 118 and 188 yuan, are a must-have item for fans.
In the movie the characters have "totems" that they use to distinguish reality from dreams. The totem of the character played by DiCaprio, is a spinning top. In a dream, it keeps spinning in perfect balance forever; while in reality it finally falls.
Ding Qing, an electronics engineer in his 20s, said he is eager to get his hands on one as soon as he gets paid.
"I don't want to wait until it's on sale," he said. An online shop on taobao.com shows more than 350 spinning tops, at 130 yuan each, were sold within seven days.
"The top is made of imported stainless steel and feels very heavy, about the weight of four coins," said the shopkeeper, who goes by the moniker "momodisc".
The spinning top, with the logo Inception on the bottom, can spin for as long as three minutes, wrote a buyer in an online posting.
"I am so scared. Am I in a dream right now?"
Besides online sales, several cinema managers in Beijing confirmed their cinemas had started to sell the spinning top when the movie was still in its promotion period.
"We got about 30 tops from the distribution company and sold them all at 10 yuan each," said the manager of UME Huaxing International Cineplex surnamed Wu.
Wu said the audience has been asking about the spinning top at the ticket office; and she is planning to contact Huaxia Film Distribution Co, the distribution company of Inception, for more tops.
Liu Hui, chief business inspector from UME Anzhen International Cineplex, said the popularity of the spinning top shows that film distribution companies need to pay attention to the film spin-offs market that's long been neglected.
"In the United States, box office is part of the total revenue of a film," Liu said. "For successful movies such as Star Wars and Pirates of the Caribbean, profits made from derivatives could count for 40 to 50 percent of the gross revenue."
In China, Liu said, distribution companies produce only a limited number of toys and T-shirts simply to promote movies.
"Ignoring the importance of the derivatives market shows they lack foresight," Liu said.
While admitting that it's difficult to know if the products will prove hot or not, Liu said big players, such as China Film Group Digital Cinema Line Co and Huaxia Film Distribution Co, have the economic strength to give it a try.
Inception took 93 million yuan at the box office in its first five days.