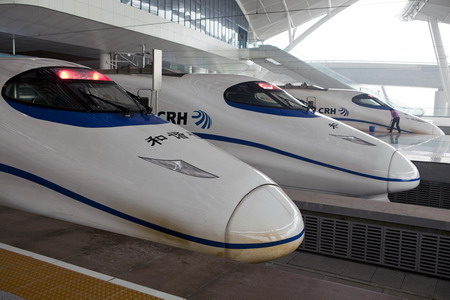 CRH trains are seen on the platform at a railway station in Wuhan. The Obama administration's infrastructure investment plan, including high-speed railways, may be good news for China, economists said. [Adam Dean / Bloomberg]
BEIJING - Though the United States and Japan have come out with new stimulus plans to revive the economy and deal with joblessness, China does not need to follow suit with such measures, economists said on Tuesday.
The US on Monday unveiled fresh plans to spend $50 billion for construction of roads, railway lines and airport runways over the next six years to bolster its flagging economy.
But the proposal may face rough weather in the US Congress due to disagreements over extra government spending.
The move comes one week after Japanese Prime Minister Naoto Kan announced a new $10.9 billion economic stimulus package to prop up the ailing economy, giving fresh signs that the global economic recovery is still shaky and a second dip may occur.
That has triggered speculation that China might need to launch more stimulus measures to safeguard itself from the possible downside risks. However, economists said given the strong growth momentum, new stimulus moves are unnecessary despite the slowdown due to the recent tightening measures.
"If the new stimulus in the US can help avoid a second dip, it is good news for China. But the economic scenario in the two countries are quite different," said Jia Kang, head of the research institute for fiscal science under the Ministry of Finance.
China's manufacturing activity rebounded in August with the purchasing managers index rising to 51.7 percent after falling for three consecutive months, easing fears of a major correction in the economy.
In the US, the unemployment rate rose to 9.6 percent in August, foreshadowing a tough road ahead.
"The Chinese economy is growing very well. I don't think China needs to take any short-term additional stimulus measures," Michael Boskin, senior fellow at Hoover Institution, Stanford University, told China Daily.
Boskin took a pessimistic view over the new US stimulus plan. "The $50 billion spending is quite modest in a $14 trillion economy," he said. "There is too much risk that it has been politicized, as the Democrats and the administration are under severe pressure ahead of the mid term congressional election."
Due to the limited scale of the stimulus plan, economists said it is unlikely to give a major fillip to China's exports. "The cement industry could benefit from US infrastructure plan, but there is hardly any impact on other sectors," Zhu Baoliang, deputy director of the State Information Center's economic forecasting department said.
Pascal Lamy, director-general of the World Trade Organization, said if the public procurement is done in accordance with the WTO rules, nations like China stand to gain.
Ding Qingfen contributed to this story.