HARBIN - China's grain output is expected to see a marginal decline, but could still amount to 500 million tons as some of the nation's measures to combat the recent weather vagaries have borne fruit, leading agricultural experts said on Wednesday.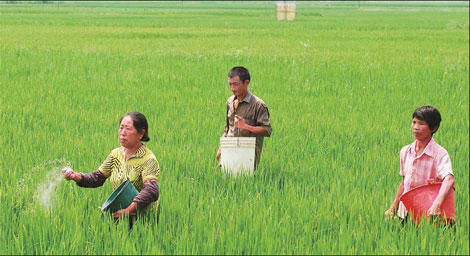 Farmers spread fertilizer at a rice field near Ruichang city, Jiangxi province. The province has strengthened pest control measures to ensure grain output. [Photo/China Daily]
Despite the weather fluctuations, grain output is likely to reach last year's levels, Zhai Huqu, president of the Chinese Academy of Agriculture, told China Daily.
"It's hard to predict the overall grain output, but we are confident that it will exceed 500 million tons this year as the autumn crop growth has been satisfactory in most of the regions," Zhai said.
Related readings:


 Challenges aside, govt assures good grain harvest


 China's grain prices to remain stable: NDRC


 Wen calls for efforts to boost grain output


 China orders curbs on grain price speculation
Xu Xiaoqing, a rural economic expert with the Development Research Center of the State Council, also feels that grain output could reach 500 million tons.
Last year, China produced 531 million tons of grain, the National Bureau of Statistics said. But summer grain output fell by 0.3 percent this year to 123.1 million tons.
The autumn numbers may show a slight fall, but the annual output would still be within expectations, said Xu.
"The decline is only natural, considering the natural disasters in the southern and northeastern regions. However, overall supplies will not be substantially affected," he said.
Grain harvested during autumn, mainly corn and rice, accounts for 70-80 percent of the total grain output.
According to Xu, rice output, particularly the indica variety used for making rice noodles and rice wine, may decline. "But it is early to predict the fate of japonica, the other rice variety, and corn as their harvest is due in September or October," he said.
A major factor that has helped the nation offset much of the weather-related impact has been the increase in the area under grains cultivation.
"The additional acreage for corn and rice will count towards the good autumn grain harvest," said Ding Shengjun, a researcher with the State Grain Administration.
But he said it would still be an arduous task before the output numbers are achieved.
The government has taken the lead and asked the relevant agencies to help farmers with enhanced field management techniques and supplies of foliage fertilizers, he said.
Though the overall summer grain output declined, the wheat harvest increased significantly. The nation is more or less self-sufficient in wheat and protected from global price fluctuations, said Zhai.
China imported 845,000 tons of wheat during the first half of the year, which is a relatively small proportion compared with the nation's annual wheat output of 110 million tons, according to the Ministry of Agriculture.
The imports were undertaken at a time when prices in the international markets were at relatively lower levels, said analysts.
China has, however, increased corn and rice imports in the past few months.
Corn is China's biggest crop, and 90 percent of the output is used as animal feed, while 5 percent is used for industrial purposes such as ethanol and alcohol production.
With only 5 percent being used for edible purposes, imports will not impact food security, he said.
There have been no wild swings in imports and exports and the overall situation is well under control, said Zhai.
Global grain prices will continue to increase in the long term as the world will face more climate change challenges. China needs to enhance its agricultural techniques to ensure future food security, said analysts.
"Grain prices are unlikely to decline, but we hope to keep the price rise under control," Zhai said.
China should tackle disasters such as droughts or floods more actively to help grain production, said Wang Ren, director of the Consultative Group on International Agricultural Research.
He also said that as climate change brings more uncertainties, it's urgent that China moves quickly and develop new crop varieties which are drought resistant.