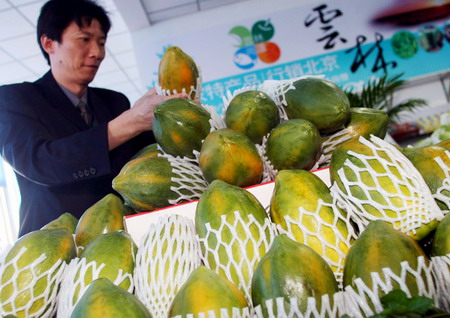 Fresh papayas from Yunlin, Taiwan province, are popular with consumers at Xinfadi. [Ai Guozhe / For China Daily] 
New division at Xinfadi to sell imported agricultural products
BEIJING - Beijing Xinfadi Agri-product Wholesale Market, the largest in northern China, will launch an international division on Aug 25, allowing traders from 16 countries to ply their produce in a specially constructed warehouse at the site in southeast Beijing.
"We are trying to invite traders from 26 countries to our international division. More than 100 types of agricultural products are expected to be brought into Xinfadi," said Zhang Pengyi, vice-manager of the market.
Some of the exotic origins of the new produce will include Thailand, New Zealand, Chile, South Africa, Malaysia, Ecuador, Russia, Peru and Pakistan.
In 2009, China's imports of agricultural products totaled $52.7 billion, while exports stood at $39.63 billion.
According to the Ministry of Commerce, China's imports of agricultural products rose 42.1 percent year-on-year to $26.52 billion in the first five months of 2010, and exports increased 22.2 percent to $17.79 billion.
Consumer demand in some of China's key cities such as Beijing, Shanghai and Guangzhou is said to be growing for a wider selection of quality imported fruits and vegetables.
Previously, most overseas suppliers imported produce to Xinfadi via Hong Kong, Guangzhou and Shanghai. With the establishment of Xinfadi's international wing, vendors can come straight into Beijing, said Zhang.
Xinfadi currently supplies more than 90 percent of Beijing's fruit and vegetables from provinces including Hebei, Henan, Shandong, and even as far as Fujian, Yunnan, Hainan and Inner Mongolia autonomous region.
Related readings:


 Produce market has fresh fruit appeal


 Standardize agricultural trading


 China's food and agricultural product exports up 5% in H1


 Farm town finds new path to growth
It is believed to be one of the world's biggest wholesale food markets and provides a trading center for as many as 80,000 people every day, 24 hours a day, 365 days a year.
Among those attending the Aug 25 opening will be large agricultural enterprises and supermarkets including Chaoda Modern Agriculture Ltd, Walmart Co, Auchan Group and Hualian Group.
Xinfadi's international division is likely to extend its impact across North China if it focuses on convenient, competitive and efficient service, said Scott Rozelle, a Cheung Kong Scholar and guest professor at Renmin University in Beijing.
It is believed the opening of the international division will also ease pressure on domestic production in the event of natural disasters.
"Over the past two decades, China has made tremendous strides in the development of its agricultural markets both domestic and international," Rozelle said.
"China's domestic agricultural markets have become increasingly more integrated (and) efficient ... (it) has some of the best agricultural commodity markets in the world."
According to the visiting Stanford University professor, the market's plan should prove to be a mutually beneficial model. North China consumers will gain access to a broader range of quality agricultural products, producers and traders gain from direct buyer access and Xinfadi market will benefit by further establishing itself as a major agricultural marketplace.