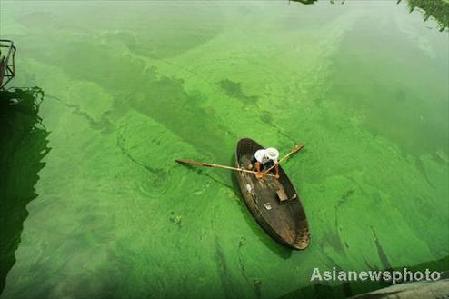 A villager steers his boat on the Chaohu Lake in Anhui province on July 23, 2010. [Photo/Asianewsphoto]
JINAN - Those algal blooms that have blotted waterscapes around China and almost sabotaged the 2008 Olympics may soon have a useful purpose -- fibers for high-tech fabrics.
A Chinese company is aiming to mass produce the fabrics that could be used in protective clothing worn by firefighters and medical personnel as early as next year, a company spokesperson said Friday.
A factory has been built in Qingdao, a coastal city in east China's Shandong province, with a designed annual production capacity of 1,000 tons of fiber made from alginate, a chemical salt extracted from algae.
The plant and technologies were jointly funded by Qingdao University and Qingdao Xiyingmen Group, one of China's leading textile companies, with a total investment of 50 million yuan ($73,529).
The plant will process algae, extract alginate fiber and produce fabrics, a spokesperson of the Xiyingmen Group said.
The environment-friendly fiber was developed from various species of algae at a national laboratory for new materials and textiles at Qingdao University.
"It's a significant advance that enables our fibers to be made into clothing," Xia Yanzhi, a senior researcher with the lab, told Xinhua Friday.
The fragility of traditional alginate fibers meant they were only suitable for manufacturing medical textiles, such as bandages, said Xia.
In 2007, Xia and his team successfully extracted alginate from kelp. Fiber from the new alginate proved particularly strong, enabling the production of fabric more durable than cotton, said Xia.
"Thanks to its resistance to fire and electromagnetic waves, the fiber can be also used to produce special clothing, such as fire-proof gear for fire-fighters, medical uniforms and other protective clothing," Xia said.
"The high-strength alginate fiber can also be extracted from brown algae, green algae and even some destructive algae that are believed to be harmful to marine ecology," Xia said.
Doctor Kong Qingshan, who participated in the research, said, "With current technology, we can extract around 200 to 250 kg of alginate from a ton of dry algae. Then, using the alginate, we can make 200 kg of alginate fiber.
"According to our estimates, the production cost for alginate fiber would be 50,000 to 70,000 yuan a ton. The cost of fabric will be even lower if it is blended with cotton," he said.
Related readings:


 China warns of blue algae outbreak in major lake


 Green algae clean-up underway in tourist city


 Green but not clean


 Algae outbreak threatens drinking water source


 Green algae hits Qingdao beaches
Xia said the limited land and petroleum resources for traditional chemical and natural fiber production had highlighted the urgent need for a new environment-friendly fiber made from sustainable raw materials.
China annually consumes around 60 million tons of fibers, including plant and animal fibers such as cotton, hemp, fur and silk, as well as petroleum-based synthetic fibers.
"As the world's largest algae aquaculture and manufacturing country, China boasts an abundance of raw materials for alginate fiber," said Xia.
The country accounted for more than 50 percent of the world's total annual low-end alginate output, Xia said.
"The new alginate fiber is expected to turn destructive algae into a valuable resource," said Li Naisheng, vice-director of Shandong Provincial Science and Technology Department.