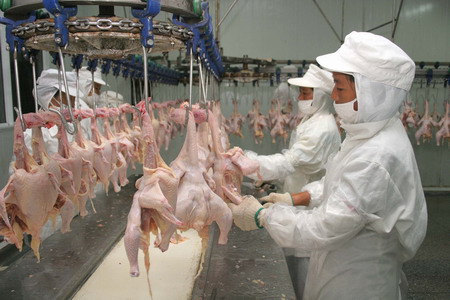 A chicken processing factory in Jiangsu province. [Mu Daoyong / For China Daily] 
BEIJING - China has notched up a victory against the United States after a World Trade Organization (WTO) panel ruled in China's favor in a dispute over the ban on imports of Chinese chicken, sources close to the matter said on Wednesday.
The ruling is expected to come into effect soon and will help open up the US market for finished chicken breast exports, the sources said. The nation is already a major exporter of chicken products to Japan.
The WTO said in June, in an interim ruling, that the US decision was in violation of its rules and regulations.
Commerce Ministry officials said China got the final ruling from the WTO on Tuesday, but the trade body did not disclose the result and other details, citing confidential reasons.
"It (final ruling) will be announced in one or to two months, and the result is actually China wins," said an unnamed source.
Related readings:


 WTO backs China in US chicken import row


 US chicken products hit with new tariffs


 Trade measures signal more active response


 China to put duties on US chicken imports
In April 2009, China lodged an appeal with the WTO against Section 727 of the Omnibus Appropriations Act of 2009, included in US laws from March 2009. China argued that the Section 727 runs against rules of the global trade arbitrator and consequently the WTO set up a dispute settlement panel in July 2009.
Under the Section 727, the United States effectively prohibits the establishment or implementation of any measures that would allow poultry products to be imported from China.
"Such rules are nothing but trade protectionist measures as they block China's chicken product exports to the US," said Ma Chuang, deputy secretary-general of the China Animal Agriculture Association.
Ma expressed confidence that once the ruling comes into effect it will boost exports of finished chicken products. "We expect to start seeing modest annual export volumes of 100,000 to 150,000 tons of finished chicken products valued at around $500-750 million roughly. It will in no way impact US poultry farmers or manufacturers of finished products," he said.
In 2009, China exported poultry products worth $870 million or 291,272 tons, compared with $860 million in 2008. It imported 799,600 tons of chicken products globally in 2008.